Puppies | Puppy supply list | Planned Litters 2019/20 | Past litters | Future stock

On this page you will find pictures and information on litters planned for 2019/20. Many of our girl pups will have been spoken for before their birth, as there are fewer girls born than boys usually. And also due to the 40+ year reputation of our breeding and family placement program, as well as how we hand raise our little Russell Terriers.

Reservations for planned litters are strongly suggested and often necessary.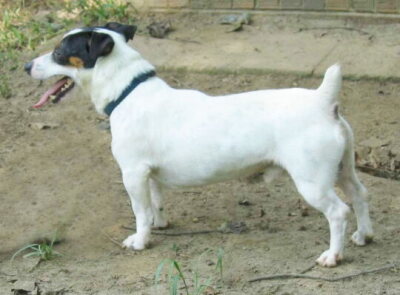 Rocky's photo, he was from one of our oldest Irish lines. He was 11.5" tall and larger-boned, stocky and we called him wide-bodied. Rocky was consistent in producing babies with full or half face masks with black tricolor and brown/copper points on the eyebrows. His babies, grand-babies, great-grand and great-great-greatgrands get his wide, stocky body type and smaller compact size. He passed on his personality and it's outstanding, and he was one of our best babysitters for our new puppies, so tolerant and such a good teacher.
We do have Riley, who is a Rocky son by Katie of Hollybrook. We have Rocky daughters: Kendall, and granddaughters, Coco & Chanel, Sansa. And we have a good handful of Rocky's grandkids that we've added to our program. Ike and Saber are Rocky grandsons too.


A great shot of Rocky's face close up. He is standing in a hole the pups dug.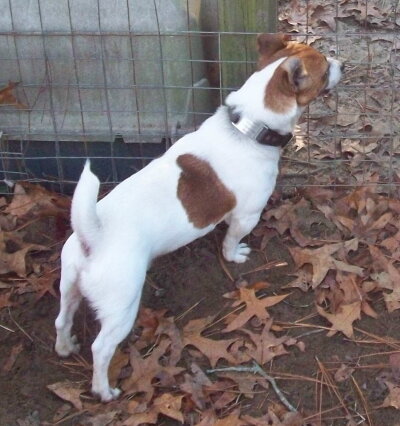 Riley is a son of Katie and Rocky. Katie has retired to Cape Cod on the beach. She was imported from Ireland when she was puppy.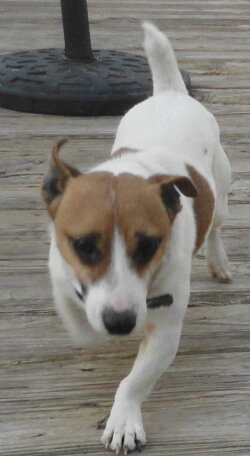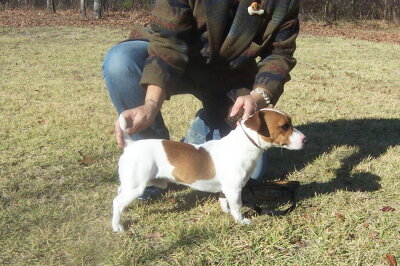 This is Blarney Stone, he's very distantly related more than 8 generations back to both Rocky and Finn Again. He's 10" tall and weighs 13 lbs.
This two photo set is Brigham, son of Blarney Stone x Gorgeous. He just turned 2 years old.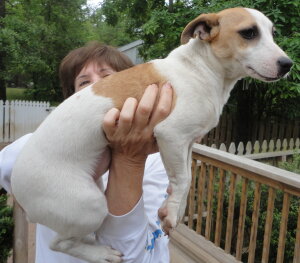 This is Bailey of the Loch, a daughter of Blarney Stone x Gorgeous. A full sister to Brigham.
(Both named for famous ice cream!)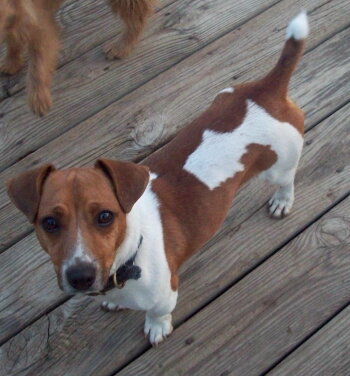 This is Coley, a son of Blarney Stone and St. Clare.
He is 6 years old and is built just like his Dad, even a bit stockier.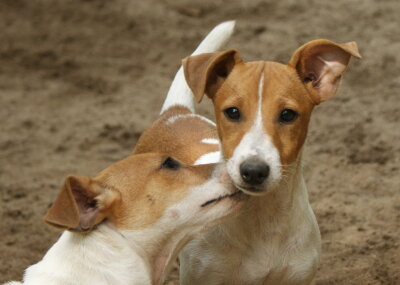 Bevan is being kissed by her sister, Callie. Bevan is the mom of Ike's litter born March 23rd..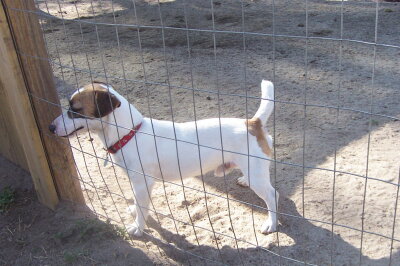 This is Finn Again, 11" tall, he is 18.5 now! He's the father of Beau, who is 16.5 now.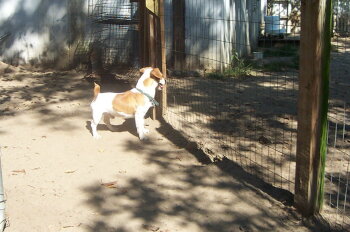 This is Beau, a son of Finn Again and a distant cousin to Rocky. He is a half-inch shorter than Rocky, but has the same good size bone structure. His coat is smooth, but a thick smooth, which he does pass on nicely to his offspring.
His personality is very much like Finn and Rocky, and almost 90% of his babies have been brown and white like him with a few tricolors.
Sweet babies from sweet boys.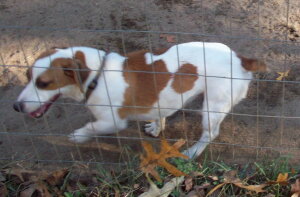 This is Beau's body color shot. He is a sweetheart like his uncle Rocky, and he throws short and stocky babies.
Below please see photos of the parents of planned litters for 2019.

This is Kelly, she is a daughter of Bridget and Blarney Stone.
She was bred to Ike again. We will need to keep
one of her girls this time. We won't know which one until they're a little older.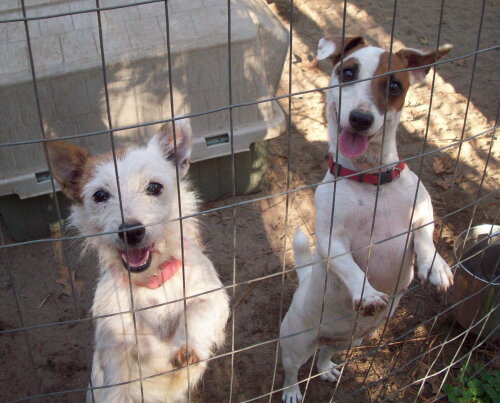 Lady Belle is a rough coat and is now retired, she is just 13.

Sabrina is on the right, she is a happy little girl. She's also retired and happy teaching babies still.

Please call me for updates and I look forward to hearing your stories about your family and dogs.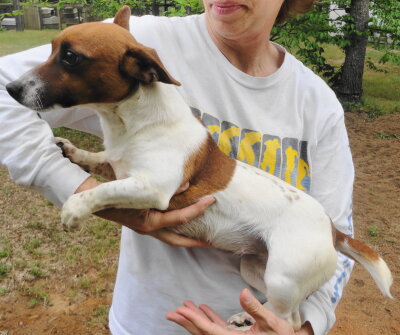 This is April, one of Blarney's Triplet daughters of St. Clare & Blarney Stone.
She was bred recently with Riley.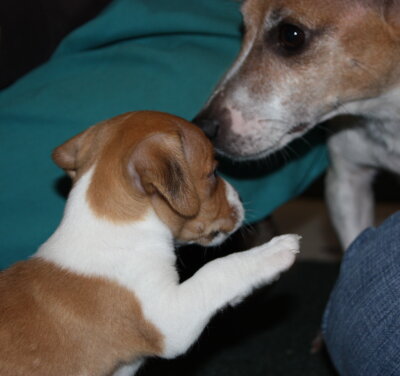 | | | | |
| --- | --- | --- | --- |
| | Scarlett has now retired to Flat Rock, NC. We kept a boy, Saber, and two sisters, Sansa & Sissy. Scarlett is a Trudy & Ernie line and Riley is a Rocky & Katie son. | | Devon - we hope will have a litter in 2019. Her parents are Bevan and Harley. (Trudy & Ernie and Rocky & Gabrielle lines) |
Puppies | Puppy supply list | Planned Litters 2019/20 | Past litters | Future stock