Puppies | Puppy supply list | Planned Litters 2019/20 | Past litters | Future stock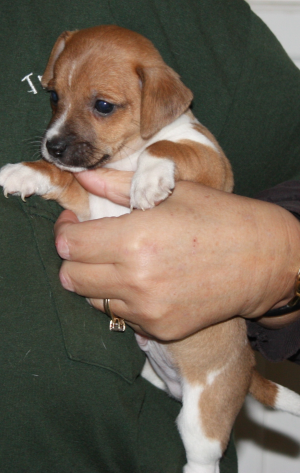 We do have a boy puppy available now, a few that are 6 wks old, both boy & girl pups. And a new litter of girls!! Please call to inquire or email!
Calling is the best way to reach me mid-to-late afternoons and all evenings. Please note: If I'm on the floor with pups, or handfeeding babies, or training in the back yard, I can't get to the phone on time to answer it. Or if its feeding time, the chorus of little voices singing while I'm preparing their meals, is so loud you wouldn't be able to hear me at all!
Please be persistant and email or call back and I will return your call! Thank you, Donna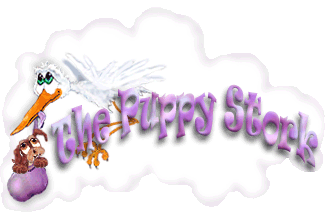 We have Mommas expecting for this early New Year time. So new pups would be ready for the Spring timeline.
We also have a few female pups who are available.
We are also retiring a few of our young adult girls and look for a match in personality of the family to the personality of the adult dog.
They are social butterflies and need their own family to be their best and happiest self!! Please call me to discuss if they would be a good match for your family!!
803-648-3137


Email: dmsfitz@bellsouth.net

Please call Donna for a chat 803-648-3137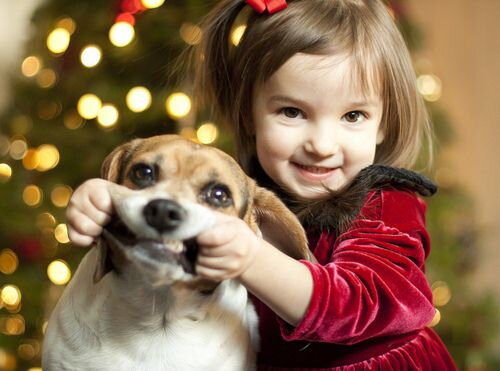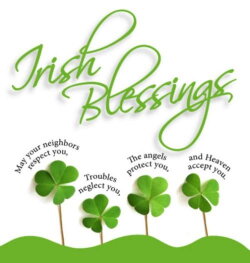 Thank you everyone for sending us your wonderful cards and photos, in the holidays all year.
It is so great for us to see them as they've grown up.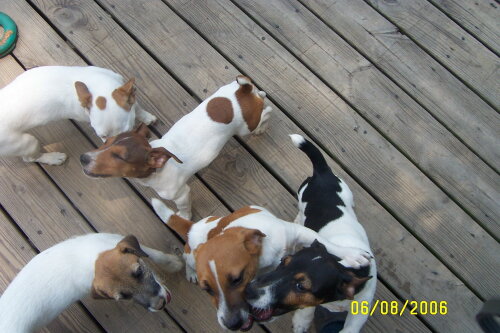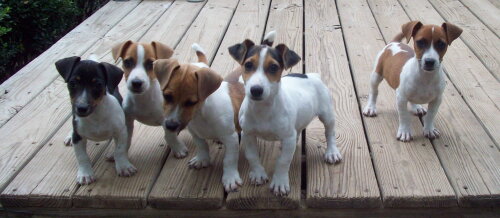 Puppy boys playing well in a group, this was 2009.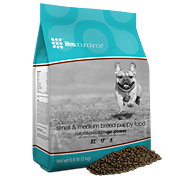 www.lifesabundance.com/dmsfitz
To Order the Life's Abundance Dog Food and Treats that we Use

please click and follow this link:
www.lifesabundance.com/dmsfitz

Please visit our Dog Food Facts page too.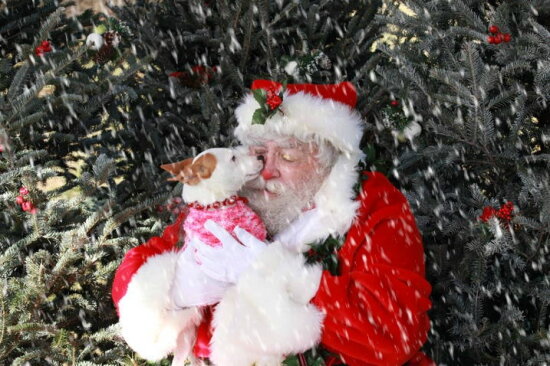 New Testimonials - ** please also see 30+ more on the Testimonials page
Dear Donna

This is the most awesome dog I've ever had, and I've had a lot in my lifetime.

He is such a delight and nothing bothers this little fellow, not noises or storms, he's always calm. He barks at strangers and don't let anybody even stop to talk to his Momma when she walks down to the mailbox, he's fierce protecting her.

And yet, he's laid back, very smart and watches TV. He loves playing with his toys and stuffed animals. He follows us everywhere and is the best dog we've ever had. We tell everyone we got him from Donna at Trinity Farms in Aiken, SC.

Thanks so much for the blessing of this little fellow,

Carl H. in NC

June 2015
Hi Donna
Fiona is a therapy dog and literacy dog. She goes to the VA and the NE Library every week. She has her CGC and her CGCA. She has her novice titles in Agility, Rally, and Barnhunt. She has her AKC intermediate tricks title. Beyond that, she is my heart ♥? dog. Judith Hawk
Hi Donna....Peanut went on his first ferry ride this week. This puppy is awesome. He is a terrific traveler, a wonderful companion, and a true joy! He has been everything I had hoped for. Carolyn
Hi Donna
Mr Magnum is progressing nicely! He is learning his verbal cues, and he is learning when he is supposed to stay certain places and when he can go certain places. He is still the apple of our eye, the joy of our heart, and just an absolute pleasure to have in our home. It is amazing to see the similarities in the Jack Russell breed, yet we can tell the bloodline which you carry is a much a higher quality and gentler dog. We absolutely love this one! The personality and quality of demeanor is so much better in your breed that it's not even funny! Thank you once again, for helping contribute to the healing of our hearts with such a wonderful young man. He is truly a pleasure!
- Craig -
Donna, her name is A'nna like in the movie Frozen. She is an amazing dog and very smart. Her temperament is amazing and her best friend is a cat named Chewey. They play like this all day long we actually have to separate them at times. I have attached a short video clip of the cat playing rough with her......My vet said he had already referred 2 people to you as he was very impressed with the overall quality. You have a great thing going and I hope you enjoy this short video. She is a wonderful member of our family and sleeps through the night, every night, in the bed with my little girl who is 6......Best regards, John
Hi Donna

Wishing you a Blessed Christmas and a New Year filled with happiness.

Keaghan was 4 on Dec. 11th this year. She brings us more love and joy

than I can describe. We still enjoy the secret page and like to see what's happening at Trinity!!

Love from Denny, Tina and Keaghan, North Carolina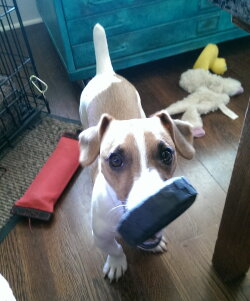 Fagan Fitzgerald plays with his toys this Christmas 2014.
Thank you ladies for sending along his handsome photo.
Donna,
We would like to update you on our boy Fagan. He is a total joy! He is probably the smartest dog I have ever seen. He was very easy to train and was potty trained in no time. He knows many words and is a joy to teach. Our initial concern was how our current older Jack would get along with a new puppy. You helped us by suggesting to get a male because ours was female and Alpha. Great Idea!
Roxie, our older Jack did very well with him. She got disgusted at his playfulness at times, and still does on occasion, but there has not been a single actual "fight". There are times when we have actually caught her playing chase with him in the yard. First Fagon will chase Roxie, then they come tearing back around the deck with Roxie chasing Fagon! It's hilarious! For Roxie it's been a change, but overall it's been great!
Fagon is the sweetest thing! His disposition is terrific! He will cuddle, sleep with us in the bed and play with our cats. He has never growled or become angry at Roxie or our cats. He plays with two of our cats playing chase or light wrestling. He is laying beside me as I write, chewing on a toy. As you can see by the pics, he loves the beach, he has learned that "Beachy, Beachy!" means fun doggie time!
I would recommend you to anyone. I wish we could have taken two puppies, but that would have been a little much to ask of Roxie. She going on 12 and can get cranky. You were right on the money about disposition. His parents were awesome and so is he! We absolutely love him, he has made our happy life even more joyful and full. We are so happy with him, and all your advice was SO helpful, and accurate!
He was so cute when we picked him up from the vet after his neuter trip, they loved him and gave him a "Good Dog" certificate. He had his little bandage on his front leg and looked so forlorn, but that was quickly forgotten when Momma held him and loved him up!
We will close now, but do know that we are just loving him to pieces! He is wonderful!
Have wonderful holidays, and enjoy the New Year. We will send you pics as we have more adventures!
HI Donna
I just wanted to write to you to let you know that it's been almost three years since we came down to pick up our puppy, who we named Phelan. As I am sure you hear time and time again, he is the absolute best. I do not know what I would do without this guy. He is a constant companion, so obedient, fun-loving, a great traveler, and adjusts to every situation. I cannot even begin to share with you the joy he brings us. Thank you, thank you. We recently lost our cat, and replaced him with another kitty, Aiden. Aiden and Phelan are best of friends! (Phelan is definitely training Aiden in the ways of the household!)

I hope this finds you well and that you had a blessed holiday. Happy New Year!
Mimi, Ardel and Gabriel and Phelan, Springfield, PA Dec 2014

"Feeling gratitude and not expressing it is like wrapping
a present and not giving it."~ William Arthur Ward
When we count our blessings, we thank you
for choosing us for your next family member.
Selecting your next family member is an adoption with us.

Choose wisely........from knowledge and not luck.
Hi Donna,
Just wanted to say hello and give you an update on Ireland.

She's been with us 2 months but it seems like she has always been a part of our family. Poor Artie wants to rest more than play but he's been a great big brother to her. She weighs 5.1 pounds now !!! She's growing and learning so fast. We ADORE her and love her and are protective of this little blessing.
She makes us smile every day. She struts around like she owns the world and it's hilarious to watch.

She listens well and comes to work with me at least once a week. Now that she's had all her important shots we can show her off more.

We just really want to thank you for everything. Ireland is EXACTLY what you said she would be. You do such a wonderful job with these babies . If ever someone needs a reference about your kennel, send them our way. I wish I worked from home so I could about a dozen Trinity Farms Russell's!!! Lol!

I've attached a few photos. Vet says she is on track to be about 8-9 pounds just like you said. She's a star wherever she goes!!!

Thank you again!!

Love,
Melissa and Nick S.
And Artie and Ireland too
Thanksgiving 2014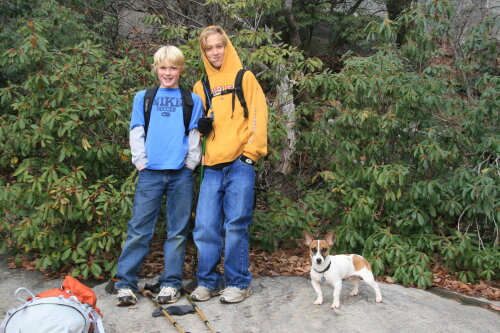 Donna,

I have not contacted you in a very long while and you may have forgotten me....but I just wanted to write and tell you how pleased we have been with the JR we bought from you going on three years ago. Rocky has been the ultimate family dog. He is small enough to go anywhere we go and athletic enough to jump in and out of canoes, on and off sailboats, up and down hiking trails etc. I have three boys that Rocky just adores and follows everywhere. He is a smart dog and has the best temperament of not only any other JRs I have encountered - but damn near any dog I know of. He certainly is everything you said he would be and more. I can't even remember how much I paid you for him but I would not take 8 times that for him now. All of us...my wife, my three boys, and I simply love him like a family member. Thanks for the great dogs that you are providing to families like mine. If your other dogs are like Rocky, then I certainly know who I'll be coming to when we are ready for another....which I hope is not for a very long time.

Take care, Chris Smutzer
Dear Donna,
We are totally blown away by how perfectly Ziva fits in our family. For starters, our 1st puppy from you, Jack, absolutely adores her and plays with her anytime she's not sleeping. He is so tolerant with her, one time I caught her hanging onto his tongue. Jeepers! She is a very brilliant little dog and has figured out the routine around here very well.
When we were going around the table at Thanksgiving a few years ago and telling what we were most grateful for, Jett said that getting Captain Jack from you was the best thing we had done all year. I've got a feeling that at this year's Thanksgiving table, adding Ziva to our family is going to be what we feel most grateful for.
Hope ya'll are doing well and occasionally get a little sleep around there!
Happy Thanksgiving, Donna!
It is difficult to believe that four years have passed since I made the trek to Trinity Farms on Thanksgiving to receive my little bundle of joy, Katie Scarlet, from you. I must tell you that she is a joy each day from her first morning bark to her last playful growl at night. She is so healthy and happy and keeps me on the move all the time. In fact, over the last three years, I have lost 62 pounds as she and I have played together. "The Jack Russell Owner's Energy and Endurance Diet"...I highly recommend it! (Perhaps I should consider throwing a pitch to a diet company.) Seriously, she has been the spark that has encouraged me to get up and take charge and what a blessing she has been!
As you and your family enjoy this time of Thanksgiving, I want to express my gratitude to you for allowing me the opportunity to enjoy the treasure of owning one of your beloved Jacks. She is a total delight and I am very thankful for having made the connection with you!
We are here in Tryon having Thanksgiving with family & friends.(a few years ago) We ride in Opening Hunt & Blessing of the Hounds before we celebrate tomorrow.
Wishing you and yours a very Happy Thanksgiving. We want you to know that one of the things we have to be thankful for is people like you.
Happy Thanksgiving, Trip & Alan
Story from Mary Ann & Steve from SC:
"Steve and I live an hour from Aiken in South Carolina. We often come to the area to ride our bicycles throughout the lovely rolling hills that surround the town of Aiken. We will be getting our first puppy from Donna in October. Since we planned to come to town for the Labor Day weekend, we asked ahead if we could visit Trinity Farms and offer an extra set of hands. We visit the website often, and we have followed the births of quite a few puppies in the past few months. So we knew that Donna was one busy lady. We especially wanted to be around all of those sweet dogs and their puppies -- and maybe even get a peek at one who might some day come home with us.
It was a day we will never forget. The care and love that Donna has for all of her Jack Russell family is evident in the way the dogs behave. They are warm and affectionate -- love to be held and petted. It was a great opportunity to take part in the care of what we will be doing with our own puppy...the bathing, massage, trimming toenails, etc. It was very difficult to leave when the time was up -- and if we are able to come back before it's time to meet our own puppy, we will definitely help out again. Thanks, Donna, for welcoming us into 'The Family'!" Sept. 3, 2011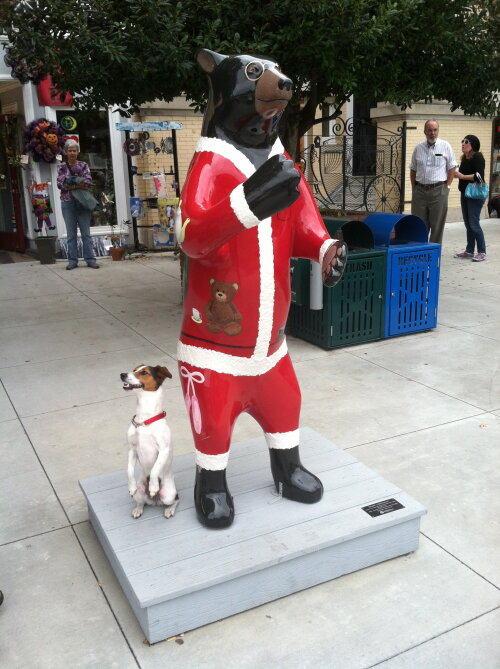 Chloe copying the Santa Bear statue pose, how adorable is she? Such cute stuff!!
Thank you Abe & Rosemary for sending this in.
Sabrina checking on her baby girl, her sweetest face for her babies.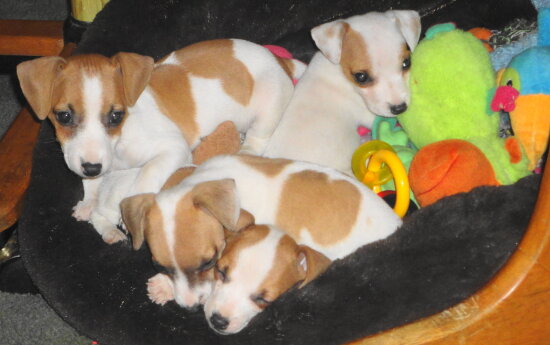 Sabrina's small girls pups from summer 2014. All in their new homes now.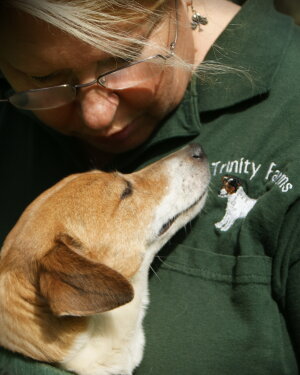 Lilly Mae getting some snuggle time with mom.
Lilly has been retired for quite a while now, she was 17 here.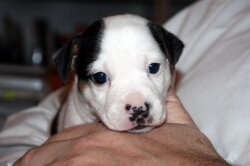 Our puppies are usually sold by advance reservations. We occasionally have extra puppies which is a wonderful surprise. We are now accepting reservations for planned litters in the future. If you would like more information please call or email me, Donna.
As sometimes it may be a six month to a year waiting time for a puppy from a certain pair of prospective parents, we encourage you to take the first step. Please send us your answers to the 10 questions on our questionnaire on the reservations page.

That is the first step, for your personal telephone interview, for us to start talking. If you'd like to email your answers in we can also do that. After becoming approved, then folks are eligible to send in a reservation deposit. The next step is going on the priority list for a specific set of parents, or a specific time line that is convenient for you.

Step 1: view the available pups or adults on the planned litters page. Once we have a telephone chat we will send you photos of the available puppies.
Step 2: call or email your answers to our questionnaire. Once approved by phone or email then you may move to step 3.
Step 3: Place your reservation deposit to hold a puppy for you. All deposits go towards the price of the puppy, of course. We will then send you all the photos of all our available pups. You may do this on the Reserving a puppy page.
Dog embryo at 25 days Dog embryo at 39 days
Dog embryo at 8 wks Dog embryo at 9 wks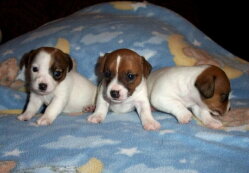 Please go to the Reservations page to fill out our questionnaire to apply for a reservation spot and then call or email us to let us know you are interested and we can start at these talking points.

You can see pictures of Rocky, Beau, Little Ernie, and Katie on the Our JRT Clan page or the Planned litter page.

Please see our 'Planned litters' page for upcoming matches.

Please visit our 'Past litters' page to see the quality of our puppies.

One of the differences in pedigrees is that when you have long, proven histories of many generations of the same line of dogs, you are able to see a consistency in quality in the puppies these dogs produce. It is over a long period of time that breeders have protected these lines and are dedicated to keeping them pure and undiluted to ensure the quality for generations to come.

When you establish new bloodlines you have done years of extensive homework and research in digging into the family histories of the dog's grandparents, great and great-great grandparents and research the family environments these dogs were also raised in. Genetics plays the largest part in about 40%, nutrition plays 30% and environment plays 30% of what makes up a good dog and how that dog develops. How that dog is raised as a puppy will determine how he acts as an adult dog and what he teaches his offspring for accepted behavior.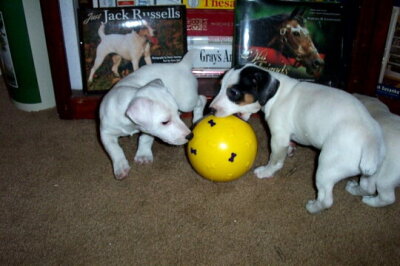 Snowman and Little Rocky playing with the talking ball and looking at the books. This was winter 2002.
* If you are looking for another different puppy, I can recommend fellow friends and JR breeders listed below. Please go to the History of the JR page to get to the subpage of Russell Rescue.

You may also inquire with these breeders as we share a similar philosophy on how we raise our babies:
Sheila and Stephanie of Connemara Terriers in Maine at www.connemaraterriers.com shares our same philosophy of breeding with similar bloodlines.

And Shelley of Bear Creek Russells in Texas also share the same philospohy of how we raise our babies and similar bloodlines.
Melissa Wilson, DVM of rollinghillrussells.com in TN for some possible puppies or older dogs that may be available.
And also visit the EJRTCA.com site for a list of breeders.
Puppies | Puppy supply list | Planned Litters 2019/20 | Past litters | Future stock