Our JRT Clan | Health screenings | Raggs' Kids | Rocky's Kids | Ernie's Kids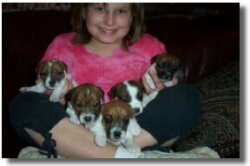 All of our breeding stock are extensively vetted and further evaluated for patellar luxation, lens luxation, heart murmurs, good dentition, and other obvious defects as well as x-rays evaluating their bone structure and conformation and are tested for temperament. They are all up to date on routine vaccinations plus bordatella (kennel cough) and they receive monthly worming and heartworm preventative year round of Interceptor or ivermectin. The adults are checked monthly for intestinal parasites. The flea, tick and mosquito preventative we have had good luck with is Frontline, and we do not use it on any pregnant/nursing females. First time mothers have blood tests/thyroid level checks before they are bred in addition to a full panel of vet evaluations. Any new female that is under consideration for addition to our breeding program must also pass a thorough vet check of all above listed evaluations including having a negative brucellosis.

Our breeding stock under consideration have CERF testing and are x-rayed for normal bone and hip formations for the OFA. Every effort is being made to ensure that puppies are as healthy and of as high quality as possible.

Any female we would consider must also have the full panel of above listed tests and certifications for breeding. Females are evaluated individually with pictures, pedigree, vet exam report and temperament reports, etc.

Stud service fees are private contracts and range from $2000 to $5000. All are private contracts for breeding fees and we reserve the right to pick of the litter in addition to the stud fee. All stud fees are pre-paid at the time of breeding, are non-refundable and a live birth is considered standard in the industry even if only one puppy is born. Live births are guaranteed and right of return service is included. We do not ship live semen. Please do not feel offended as we do not breed to outside females. Preference is made and exceptions are for a 100% Shamrock line female only.

Phenotype or clinical "Tests" or "Testing": In this context, the word test is a synonym for, or identical to, the word examination. The test or exam may be physical, ophthalmological, radiographic, by ultrasound, or a laboratory test, etc. The purpose of a phenotypic test is to determine whether a disease(s) is present or absent. In regards to a genetic disease, if the dog is affected, it tells you the genotype, but if a dog is phenotypically (clinically) normal, it does not tell you if the dog is a carrier or not. GDC, CERF and OFA "Tests" fall into this category.


Please see the Health & Research page for more in-depth information on this subject and additional recent publications added to that page.
Our JRT Clan | Health screenings | Raggs' Kids | Rocky's Kids | Ernie's Kids