Reserving a Puppy | Costs & Shipping | Reservation form | Questionnaire | spay contract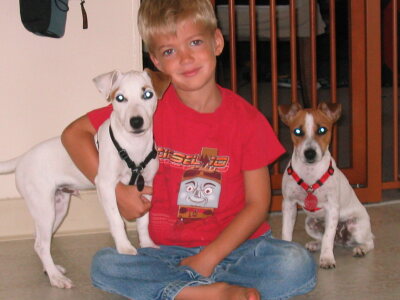 What is the next step in acquiring a puppy?
If you are interested in talking about how a JR fits into your family life please call us, or if you would like to place a reservation for one of our available puppies, please send us an email with your answers to the 10 questions below. Replying to our questionnaire does not obligate you to purchasing a puppy, but we do start to talk to all our potential new owners from these conversation points. Any personal information you provide us on this application will only be used for: 1- will be used as contact information for us when we start a family file for reservation of a puppy for you, upon our receiving your $300 deposit; and 2- will be transferred onto a deposit record to hold a puppy and to the pending record at the time of receipt of money before delivery. Your deposit is applied to the final cost of the puppy. We protect your privacy and do not give out any information whatsoever.
You will get a response by email to let you know that we received your inquiry. You are also welcome to give us a call to tell us you sent an inquiry by email. Our phone is (803) 648-3137 so please leave us a message if you don't reach us immediately. We will get back in touch with you shortly to answer any questions that you may have.
Pre-qualifying questions:
These are the starting points for our conversation and these are the questions we will ask. You can email the answers to:
1) How many people in your family? Do you have any children?
2) Do you have a fenced backyard, and how do you plan to keep the dog safe and exercise it? Do you live in the country or city? Please describe your home environment.
3) Have you ever owned a dog before? Do you own any dogs now or have in the past? If so, how many and what breed? Please tell us about them.
4) Would you be willing to attend training or obedience classes with your puppy? JRT's can easily become the master in the household if you are not consistent with them in their training. Can you create routines and rules that they are comfortable with so they learn that you are their pack leader and will look to you for guidance. Can you be consistent and do this?
5) Do you own any other pets now? If so, what type?
6) Are you interested in outdoor activities? What kind? And do you understand that the Jack Russell requires a fair amount of daily exercise? What are your plans for exercise or playing with your new puppy?
7) Are you looking for a male or female puppy? Do you have a preference?
8) What is your reason or interest level in acquiring a Jack Russell Terrier?
9) Please tell us how you found us? A referral from a friend, a print ad, or on the web? Which web site address did you find us on?
10) Please ask your questions or provide comments here.
Please provide us your name and address and please include your home, cell or work phone and let us know the best way you would like us to contact you, and what times are convenient.
Name:
Address:
City, State, Zipcode:
Phones:
Occupation:
Hobbies:
Best time for us to call or contact you:
Thank you for taking the time to complete our questionnaire. It will help us to get to know you better, and that way we can do the best possible job in picking out a puppy that will best suit your needs. This will also help you give some thought on how you will care for your puppy.
If you have any questions at all please feel free to call us.You may email us your answers to the inquiry questions or call at (803)-648-3137
We take great care in talking to and screening our prospective families, as we want the puppies to go to the best homes possible. We want to make sure it is a good match for you, your familiy, and for the puppy. We spend a great deal of time raising and creating a loving, well-behaved puppy, so we love each and every one. We want to make sure they go to great homes as they are our babies!
| | | | |
| --- | --- | --- | --- |
| | Call Donna for a chat 803-648-3137 | | dmsfitz@bellsouth.net |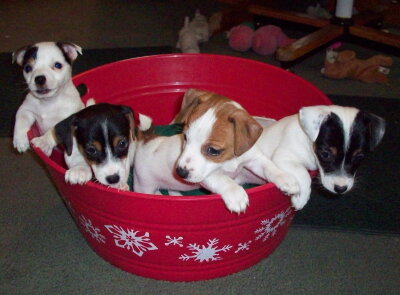 Gillian's and Rocky's kids from 2009.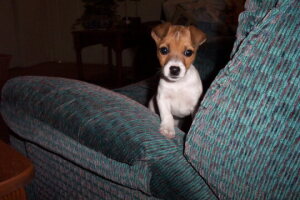 Reservation Protocol:

If you are sure you would like a puppy, we strongly suggest that you place a reservation before the next litter of puppies arrive. This way you will be given first opportunity and preference to see pictures of our next litter of puppies. You can select from the ones we may have available now or you may choose to wait until the next set arrives. Families moving a reservation to the next available litter will have presumptive rights as their reservations would have been placed at an earlier date.

We do inform people which order of reservations they will be, for instance family # 1 - 6, etc. If you are sure you want to place a reservation for a male or female, then we do break down the reservations for each sex. But if family #1 is not sure of which sex they will chose from until the puppies are born, then the choice will be for which puppies are still available after family #1 chooses, then family #2 and so on. It can get complicated at times, please feel free to give us a call for more details on reservations, we will be happy to explain further. Selection choice goes to pre-qualified and pre-approved customers first who have been approved and placed a paid reservation first. First come, first served order method. Repeat customers may chose from any available puppies. From there we will notify those who inquired in the order they called, wrote, emailed or visited, inform them of the approval process, and then the first approved person to place a deposit gets to chose in the order that their reservation was received.
Some people do get approved first, get on the pre-qualified list but may decide to wait until placing a deposit reservation as they are unsure of their timeline. You can get pre-approved and go on a waiting list for the future.

Please call us for details of the current available puppies, and to discuss exactly what you are looking for in an Irish or English Jack Russell to suit your family.
We encourage prospective families to consider the longer-term investment that is needed to provide for the best possible home for your Jack Russell. The initial cost of your puppy should only be one consideration and you will also need to consider the supplies, food, toys, training, fencing and health costs over the life of your puppy.
How does a reservation work?
A reservation will guarantee you choice selection from our puppies. If you know you are interested in getting an Irish or English Jack Russell, and would either like to have one from our available pups now, or from our next litter, or if you are waiting for a specific puppy, (markings/coat type/sex, etc.) you should place a reservation with us before the puppies are born.

Sometimes families ask that we use our best judgment to select the most appropriate puppy for them, based on their wishes, and best match personalities of the puppies to the new home. We go to great lengths to ensure the match is the best possible one for your family. We use the Volhard puppy temperament test to determine suitability levels for all our puppies' families as well as our own trained eye observation of behavior.
Reservations are offered to pre-qualified owners. Please see our list of pre-qualification questions. After we discuss with you your family needs and preferences and we talk about the answers to our 10 questions and speak further by phone about our puppies, only then will we become comfortable that a JRT is a good match for you. Then we will make the reservation with you.
If you do not see the one puppy that you really want, you can always move your reservation to the next litter. Sometimes moving your reservation to the future litters can get you a better pick on the next arrivals; there is no rush or time limit to select your puppy, it is up to you when you wish to choose from that litter or move it to another future one.
We can accept a reservation by Paypal, which is immediate and provides you with an instantaneous receipt and time and date stamps the deposit. You may FedEx, UPS next day a money order or a check, or you may send a check, made out to Donna Fitzpatrick, and not the farm name.We will wait 4 days for Priority Mail only, but others who use FedEx, UPS or Paypal will get their deposits placed sooner and ahead of the ones snail mailed.
We do require a $300 deposit to hold a place for you for a puppy, which will go towards the final cost of the puppy. Which is 950 for males and 1200 for females.
Then when the puppies are born another $300 deposit is due. Then when you pick out and/or name your puppy another $250 deposit is due, etc., etc. until the total is paid in full. As long as the pup is paid for before you pick him or her up, or bringing the last deposit the day you come to pick up your pup. All puppies will need to be fully paid for by the time they are 8 weeks old.
To help make it easier for our families to send deposits we have added a Paypal button at the bottom of this page. This is a very safe and the quickest way to send your deposit.

When you place a reservation we will keep in contact with you about the news on the expected birth dates of the new arrivals. As soon as they are born we take lots of pictures of the puppies, and send them to you before they are posted. We will let you know first that the new puppy photos are going to be emailed to you and we will help you with your selection.

We do reserve the right to hold a particular puppy from any litter if we decide he or she may be added to our own breeding stock for the future. All picks or choices must be made by 7 weeks of age. We prefer to wait until some personalities appear and we can help families make a decision that way, or if the families have their heart set on a certain color, sex, markings, etc. they may chose earlier or as soon as their turn comes up in the order that their reservation came in to us for that particular litter.
We usually take five or six reservations per litter and sometimes we'll be surprised with one or two extra babies in the litter. Then the people on the reservation list will be offered the opportunity to choose these babies. So getting on the list will save you a spot to claim a baby. Occasionally we may have puppies available if you just happened to find our site and have not sent in your answers yet. You can also qualify by calling us, which may speed up the process for you.

What comes in the puppy pack when I get my puppy?
Your puppy will have a whole puppy package which includes:
**veterinarian health exam and shot record and if flying, a certificate to travel out of state from Clemson Dept. of Agriculture.
**his vaccination records with the vaccine labels so the vet can see what was given, a full health record of visits, wormings, flea treatments, etc.
**A book for you on Jack Russells by Dr. Ian Dunbar, the pre-eminant expert on shorty Jacks.
**an 3 lb. pack of Life's Abundance puppy/dog food to start off with what we have been feeding.

**Many articles on puppy training, why puppies chew so much, puppy socialization, adjustment, house training, health tips to treat your puppy if its after hours at the vets for emergency info and what to do until you can get to the vets.
**List of highly toxic plants, shrubs and trees, and a list of non-toxic plants, etc.
**Kong stuffing recipes and directions
**his own stuffed animal toy to sleep with and his own blanket with our smell on it to help him sleep the first night on his own. He'll have several of his toys with him too.
**a biscuit or training treats to chew on for dental care and keep plaque off his gums for better health and longer life.
**a refrigerator magnet business card so you can call anytime with questions and business cards for friends when you show off your little guy and everyone falls in love with him, even your vet.
We include the legal signature stuff, too. The JRT Lease/purchase agreement, the spay-neuter contract and the written health guarantee. This all comes packed in a large plastic envelope for you to take home with you.


Reserving a Puppy | Costs & Shipping | Reservation form | Questionnaire | spay contract