Testimonials | Photos of Families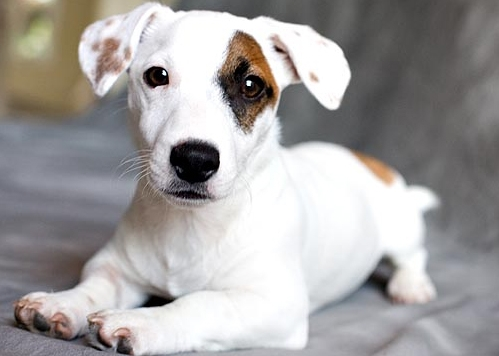 Hi Donna,
It's Fenway's mom Shannon in Laguna Beach, CA. Fenway parents are Gillian and Blarney, He is doing great. He will be turning 4 on January 29. I can't believe my baby puppy is almost 4! He just went in for his 6 month vet check. Our vet is always amazed by Fenway because he is so calm for a JRT. We don't have kids, but Fenway is a favorite among all our little nieces and nephews. He is such a good sport with them. He is quiet, calm, snuggly, and playful. Most of our friends and neighbors have never even heard him bark. He loves all people and all animals. He is so special it is hard to describe.
As you might remember, we've been hoping to get another puppy from you, but the timing hasn't been right. We are still waiting to get settled in a new house so we can have another puppy. It is so hard to be inactive and see your current litters! The puppies are beautiful. Hopefully, we will be ready when your next batch of litters is available later this year. We would like a female puppy with lots of white.
I'm sure you are super busy with all your little pups, but I just wanted to check in and say hello and let you know that Fenway is simply the best dog imaginable. We love him so very much, as does everyone who meets him. Warm regards, Shannon
Donna, hi!
What a wonderful week we have had with our new pup, George. He is a dream, we absolutely LOVE our dog, George - so sweet and smart.
I have to take this opportunity to tell you what an outstanding dog George is!! This dog has become such an important part of our family. He has the best temperament; kind and loving with the brains and beauty of a Jack Russell but without the super charged aggressive side. This dog is calm and awesome. He can get spunky and playful but when its time to calm down, he'll jump up on your lap, when invited, and sweetly cuddle. After having had a typical American Jack previously, we are floored by this awesome animal! We cannot thank you and your family enough for the dedication, knowledge and obviously years you all have poured into breeding these lines!! He has been the most wonderful addition and we waited many years to get another dog. We applaud whatever you did those first eight weeks!! We have been working with him since the first day and he is so smart and beautifully trained. He is also learning commands very quickly. He sleeps well, eats well, potties great and plays with little children well – its just amazing what you all are doing there.
Donna, thanks so much! We'll send a Chrismas card:)
Please give Gorgeous and Blarney a bug hug from him!
Stay in touch and all best wishes, P. in Charleston, SC

Thank you for this amazing pup. You and Trinity Farms Kennel are the best!
Jan. 2014

Our little girl Kia is growing up. Thank you Donna for giving us the best gift of life. Kia has giving us
so much love and affection that I just can't describe it. She is been everything that we wanted and
more. What an amazing little girl, well behaved, she listens to mom and dad, she has a trainer once a
week and getting her exercise. I want to take this opportunity and thank you and your family for the
joy that we are experiencing with Kia. Rod and I,
We are contemplating giving Kia a little sister to play with when Kia turns a year maybe around
March? please keep us posted.

Veronica and Rod in Miami
June 22 2013
Greetings from New Jersey

Hi there! Hope all is well…so I bought Georgie a "Snoozer" booster/car seat, and I purchased the comfort zone spray (can't find the air freshener one for the car)….he has been doing great around town, lacrosse games, local errands etc….and my in-laws who live about 5 min. away have a fenced in back yard, and he LOVES, LOVES, LOVES running around in their backyard chasing the birds and squirrels….just loves it! So, so far so good… I did take your advice and get him a booster seat and the comfort zone spray….so let's hope that works just as well for short car rides as well as LONG car rides….we will test the waters this weekend, with it being Memorial Day weekend, we are all looking forward to going to the shore…..and as soon as you mention the word CAR…he goes right towards the door,….so, fingers crossed…will keep you posted….just wanted you to see him in his seat!
He loves being brushed too, OMG, he just loves it….He's such a joy, we love him so, so, SO much….you have no idea…..or, well, maybe you do….you have a LOVE for these dogs obviously! What a joyful experience it has been to have a relationship with you, and to be in love with the dog you breed!
Our middle daughter, Katie just graduated from WVU last weekend…my sister had him…she loves him too!
Donna and Georgie in NJ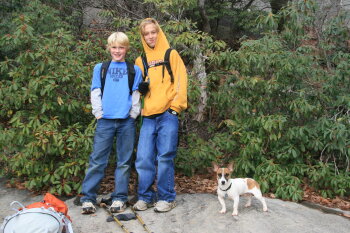 Donna
I have not contacted you in a long while and I just wanted to write and tell you how pleased we have been with the JR we bought from you going on three years ago. Rocky has been the ultimate family dog. He is small enough to go anywhere we go and athletic enough to jump in and out of canoes, on and off of sailboats, up and down hiking trails etc. I have three boys that Rocky just adores and follows them everywhere. He is a smart dog and has the best temperament of not only other JRs I have encountered, but damn near any other dog I know of.

He certainly is everything you said he would be, and more. I can't even remember how much I paid you for him but I would not take 8 times that for him now. All of us...my wife, my three boys, and I simply love him like a family member. Thanks for the great dogs that you are providing to families like mine. If your other dogs are like Rocky, then I certainly know who I'll be coming to when we are ready for another....which I hope is not for a very long time.
Take care,

Chris S. family in S.C., May 2012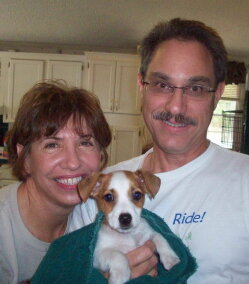 Steve and I live an hour from Aiken in South Carolina. We often come to the area to ride our bicycles throughout the lovely rolling hills that surround the town of Aiken. We will be getting our first puppy from Donna in October. Since we planned to come to town for the Labor Day weekend, we asked ahead if we could visit Trinity Farms and offer an extra set of hands. We visit the website often, and we have followed the births of quite a few puppies in the past few months. So we knew that Donna was one busy lady. We especially wanted to be around all of those sweet dogs and their puppies -- and maybe even get a peek at one who might some day come home with us.
t was a day we will never forget! The care and love that Donna has for all of her Jack Russell family is evident in the way the dogs behave. They are warm and affectionate -- love to be held and petted. It was a great opportunity to take part in the care of what we will be doing with our own puppy...the bathing, massage, trimming toenails, etc. It was very difficult to leave when the time was up -- and if we are able to come back before it's time to meet our own puppy, we will definitely help out again. Thanks, Donna, for welcoming us into 'The Family'!" Sept. 3, 2011
Hi Donna,
I just wanted to add to your testimonials.
It's only been a little over a week and we are so in love with Keaghan. She was
just perfect on the 4 and a half ride home sleeping probably four of it. It's un-
believable how quickly she's taken to the puppy pads, I just say go to the pad
and she does. I would be lying if I said she was sleeping in the crate at night,
she sleeps in the bed with no problem. I can't tell you enough how much I
enjoyed talking to you during our wait. You had plenty to do but always were
happy to talk about the dogs with me. The picture updates you sent were just
wonderful and made picking our new puppy so easy. We also enjoyed our visit
with you. I so enjoyed sitting on the floor and playing with the puppies and just talking
and visiting with you, I felt we were truly friends before we even met you. You truly
love your dogs and it shows in their loving temperment. Keaghan just loves us
and shows no signs of missing her Mommy or siblings, we seem to have filled
any void for her. Again thank you for everything and Keaghan will have all the
love she can handle and then some. Our lives are complete again with the love
from a wonderful little dog. We'll always be in touch with you. Tina and Denny


Jan. 10, 2011 Donna~
We had the BEST afternoon with you! I am downloading my pictures, but I haven't been out to get any CDs to copy them on.....the sun is trying to come out, so if it melts the ice on the roads...I will be going....getting a little cabin fever! I am going to check out your secret page and let you know about a puppy. I can't wait to come back and visit and see all the puppies!
I have thought so much about people who come into our lives at the right time and I am so thankful we met you. I know adding on to our family, from your home, gives me such peace! All of your dogs are fortunate that you are their "MoM", the love you have for them comes out in so many ways! I will be in touch later today....hope you and your family are staying warm and enjoying each other! Talk with you soon, take care, Rise' and Tom in FL.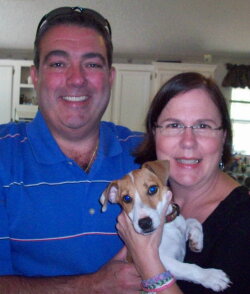 Dear Gramma Donna,
I wanted to wish you a Merry Christmas 2010.
I love my home and my parents adore me. I go everywhere with them.
So far, I have visited Miami, Orlando, New Hampshire, Boston, Baltimore and D.C., and of course, NJ. Everyone says I am the cutest JR ever and the best behaved one for sure.
I can do lots of tricks and I love to eat.
I hope you like my XMas photo.

Tell my mom Fiona and my dad Blarney that I love them too. Have they had any more babies since I left? Oh, I also love you.
Merry Christmas,
Chimi Valle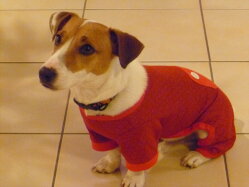 Dear Grandma Donna,
Thought you would like to see this picture of me in my XMas PJs on Xmas Eve, ready for bed, making sure everyone knew I had been a good, good, boy all year long. I wanted lots of presents from Santa and I got a bunch of new toys and a new raft for the boat. The raft is for me, as I get tired of swimming but want to stay by my mom and dad in the water. This way, whenever I am tired, I just hop onto the raft and rest by their side. Mom has a rope attached to her waist that keeps the raft (and me) by her side....

Hope you had a great XMas. Say hi to my doggie parents and siblings.
Love,

Chimi Valle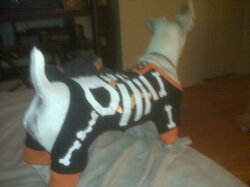 Hi Mommy Donna

Here is our Chico, all dressed up for Halloween 2010. We had such a wonderful time with him and the kids had a blast. He loves the attention. He keeps us laughing and brings smiles to our faces every day. Take care, Lloyd in DC.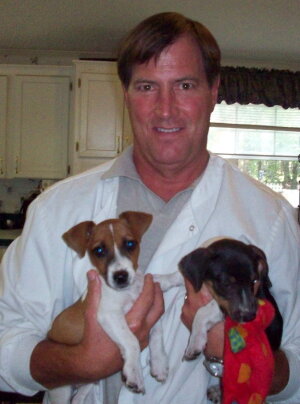 Thanksgiving 2009
Hi Donna
We are here in Tryon,NC having Thanksgiving with family & friends. We ride in Opening Hunt & Blessing of the Hounds before we celebrate tomorrow.
Wishing you and yours a very Happy Thanksgiving. We want you to know that one of the things we have to be thankful for is people like you.
Happy Thanksgiving, Trip & Alan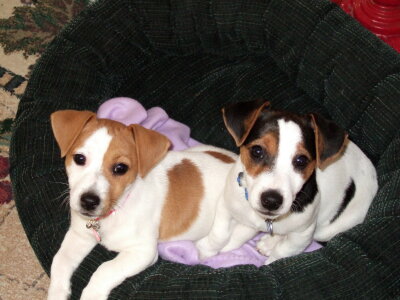 You asked that I tell you about my experience about getting my Trinity Farms puppies, so here goes. I had owned a shorty Jack Russell for 14 years until we had to put him down in September. He was the love of my life. Then in October we felt we needed to fill that void and I started researching breeders online. I was so impressed with how Trinity Farms approached their breeding program I just had to go with them. I filled out the questionnaire and started to get to know Donna. After looking at two different litters we picked out a little brother and sister, when they turned 5 weeks old, my sister-in-law and i flew to Aiken to see them, Donna, and just how Trinity Farms raised the puppies and their parents. We spent the entire day with Donna and all of her wonderful Jack Russells. We were so impressed with how she raises the moms and dads, how she decides who to breed & how often, how the puppies and new mommies are loved and taken care of, and how well adjusted the puppies are. Then we flew home and I waited a few more weeks until they arrived. Donna assured me that Delta would take great care of the puppies as they traveled and they truly did. The day they were shipped we went to the airport and there was our beautiful Baxter and Rita wagging their tails and full of kisses for their new mommy & daddy. I had left a little neck pillow cover with Donna to ship with them, and Donna had added food, toys, water and a little blanket that had her scent on it. These items made them feel safe, and except for a little dog poop in the corner, my little guys arrived in perfect condition. I cannot recommend Trinity Farms enough. My little Jacks are now 3 yrs old and we love and laugh every day over what great gifts they are. If you have any doubts I assure you that Donna has an A1 facility and truly loves all of her Jacks very much.
Thanks for asking, Paula Treat, California
PS: since then we have flown back and have added two more babies from Donna's home to our home. They are Hunter and Chloe from this summer 2010. Our cabin in the woods is now called, 'Four Jacks Cabin'. Below are Chloe and Hunter wearing their recovering collars from their spay/neuter. Baxter, and Rita and Chloe and Hunter are fabulous together.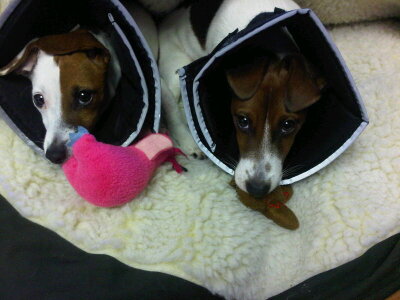 2009 Happy Thanksgiving, Donna!
It is difficult to believe that four years have passed since I made the trek to Trinity Farms on Thanksgiving to receive my little bundle of joy, Katie Scarlet, from you. I must tell you that she is a joy each day from her first morning bark to her last playful growl at night. She is so healthy and happy and keeps me on the move all the time. In fact, over the last three years, I have lost 62 pounds as she and I have played together. "The Jack Russell Owner's High Energy and Endurance Diet"...I highly recommend it! (Perhaps I should consider throwing a pitch to a diet company.) Seriously, she has been the spark that has encouraged me to get up and take charge and what a blessing she has been!
As you and your family enjoy this time of Thanksgiving, I want to express my gratitude to you for allowing me the opportunity to enjoy the treasure of owning one of your beloved Jacks. She is a total delight and I am very thankful for having made the connection with you!
Fondly,
Judy T.
Plant City, FL

From Betty to Donna at Thanksgiving, 2003:



Every year at this time I like to write a note to those people who are most special to me. I give thanks for you daily, but I don't see you often enough to tell you how much I appreciate you. Each of you have a special place in my heart, and for special reasons, and I think you know what they are. Just in case you don't, well...

To Mary Jane, I am thankful for your friendship that never wavers, for your tenderness, for your compassion, for your understanding... and for the many hours on end when you sat with me 40 weeks ago when Tiffy was killed, consoling me and comforting me. You were with me as we went through the stages of grief together, and you shared them with me. You have my undying love.

To Donna, I am thankful for the care you took in the breeding for Petey. Without him, my lap and my heart would still be empty, and my Shadow would still be wheezing. Your care in breeding shows in his disposition and his loving affection, while still maintaining his
playfulness. There is no way you could have known what a hole he would fill, and yet in your heart, you knew that he would be special for somebody. He is an absolute joy, and I am thankful for you and for him.

I'm sure there are many more things that I could go on and on about, but this hits the highlights, and they are the things that I am most thankful for this day...as it is truly written from the heart.

I love you all...



from Betty and Jerry and Petey in Augusta, Georgia.

Dear Donna, Michael and Sean:
Thank you so much for taking such good care of Cody! We appreciate the great love you have for Jack Russells. The wait for our puppy was made easier because we know he was with great and loving people. Cody couldn't have come from a better breeder. Again, thank you for keeping in touch and for having a personal relationship with your customers.
With much gratitude,
Lara and Dustin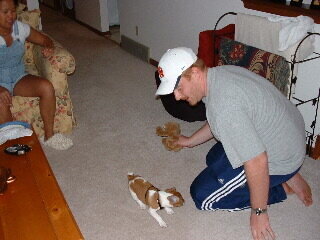 Hello Donna;
I hope that all is going well at your house. We just wanted to let you know how Jedi is doing. He is a wonderful dog. He puts so much laughter and love into our lives.

Jedi is very smart. He knows to go to his blanket when he wants to chew on his toys, rings the bell when he wants to go out, loves carrots, has a moose for a bedtime partner. He is crate trained the first night and loves it in his crate. He goes to his crate when he wants to go to bed.

We couldn't have asked for a better baby than him. We can't get enough kisses from him.

One little problem... it is so hard to go walking with him because everyone thinks that he is the cutest thing that they have ever seen; we have to stop and show him to everyone... okay that is not a problem. He is very socialized...Everyone loves him and he loves everyone. He is awesome.

He is apart of our family. It is so nice to have such a beautiful addition to our family. He is a gorgeous dog.

I will send more pictures, but this is Jedi and Will playing on May 2, 2004. Will and Jedi are the best of friends, and I love it when he cuddles me. He does that all of the time with me. Everyday Jedi does something that amuses us. It could be something as little as tipping his head to the side, like an inquisitive look or the way he prances around our house.

Thank you again for bringing something as wonderful as Jedi into our lives. Please give Molly and Raggs a kiss from us. They have brought in a beautiful animal into this world. They did an unbelievable job!

Thank you also for all of your help. If we ever consider another puppy in the future, we will be contacting you.
We will stay in touch.
Will and Shana, New York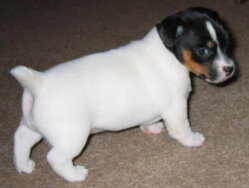 Donna,
Just wanted to let you know how Glory is settling in today. If you didn't know that she just got here yesterday, you'd of thought she's been here forever. She had a great night, she slept with us (I could say I wouldn't let her in the bed and keep her in the crate, but she would of ended up there anyway eventually), she curled up around my neck, and besides chewing on my hair once or twice, she slept all night. She also watches TV very intently. Only once she woke up and went over to say hello to my husband, like she realized she hadn't properly introduced herself. She's not had one accident in the house, I don't know how that was going over there, but she's doing great.
She loves the kids, particularly my oldest and Max the boxer is fascinated with her. She taught him to get down on his shoulder to play (she does that alot and he started doing it too). When he wears down and quits playing she'll go in her crate and bring another toy out to flip in front of him, like "maybe you'd be interested in THIS toy." He thinks she's definitely cutting into serious nap time but they are already fast friends. By the way, thanks for the extra toys of hers. I made sure she had her duck to sleep with and she showed all of them to Max.
We had alot of running around to do today, and she just went right along with all of it. She sits happily on her pillow in the back seat, or on my lap, and waits for whatever we're going to do next. My neighbor commented on how calm and quiet she is. She's so much fun to watch her crazy play, and yet when you pick her up or put her in her crate she's just as happy to sit and watch what's going on. You've done a great job with her.
Needless to say, we are thrilled with her. She's really a testament to your wonderful breeding program. She's everything I read that a great Jack Russell can be.
Thanks again for everything. We couldn't be happier. We'll send a picture or two soon if you'd like.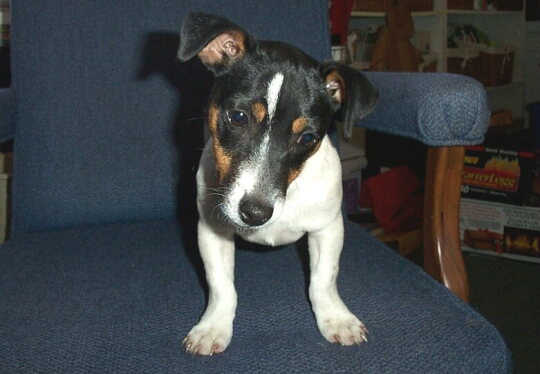 Donna,
You know, that may be the only subject on your website that I didn't read, the testimonials. I'll have to do that tonight, I pored over the rest of it endlessly, I don't know how I missed that part. By all means, feel free to add mine to the rest. You can be sure I'll be telling everyone where I got her from. She went with me today again, and everyone has just had a fit over her, and can't believe how calm she is. My four year old, Andrew, played out in the yard with her today, and she followed him everywhere, it was really great to watch. When she gets tired, she stands up on her hind legs for me to pick her up and hold her for a while. We may actually be wearing the Jack Russell out, she slept until 6:30 this morning, straight though. I don't know if all of yours are like this, but she's not waking me at night, she hasn't nipped anybody playing and no accidents. I wasn't going to go on about the virtues of Glory again tonight (she just scratched at the door to go out, she had to go to the bathroom, I'm not believing she's figuring things out so quickly), but we had another great day. I'm really glad you're taking such care in preserving this line of Jack Russell.
From the minute I saw her picture on your website, I knew she was exactly what I was looking for (and believe me, I looked at ALOT of Jack Russells). I almost didn't even mention her in my first e-mail figuring she'd be already be gone, but I thought, what the heck, I'd throw it in there anyway just in case. (She's in the process of killing one of her stuffed animals right now) It really has seemed like she was meant to be here.
Thanks again for everything!
Christi
Hi, Donna,
Well, Guinney and I have just passed our 1 year anniversary. I can whole-heartedly say that she is everything I had hoped for when I decided get her, and is truly my very best friend.
She is the TOTAL queen of our horse farm, and spends her days rough housing with her girlfriend, the manager's JRT. She also feels responsible to oversee all aspects of our operation. I have attached a photo below of her supervising the arrival of a new horse at our farm. In the photo, she is wearing one of her play coats, but she has quite a wardrobe, including a lovely black coat with a leopard skin collar and black pearls to wear when we are invited out for the evening. VERY FUNNY DOGGIE! At night she snuggles and keeps me company. I can't think what I would do without her.
Penny is doing well at my sister, Melinda's house. Guinney and Penny play like wild doggies when we are in Dallas, and Guinney continues to fly under the seat in front of me like a seasoned traveler.
THANK YOU SO MUCH!
Jill Peterson and Her Majesty, Queen Guinevere I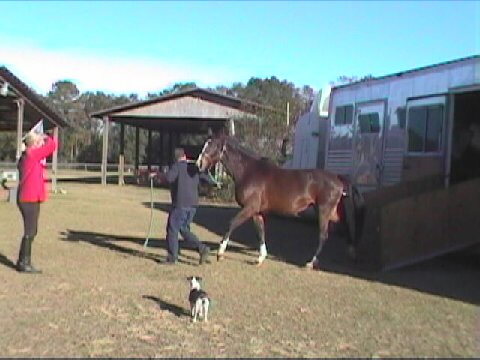 Hi Donna
I just want to let you know that Jedi is doing really well. We are so happy with him. We have been taking him to obedience classes, and they are making a huge difference in our relationship with him. I am so glad that you recommended doggy training. He is learning how to sit-stay. Our trainer told us after a year that Jedi will be able to stay on command and "down" on command. We have been putting a lot of work into his training. Our trainer told us that if we put the work into him now than he will be an unbelievable dog. We already see a huge improvement in him already. I thought that I would send you a recent picture of our baby. He continues to make us laugh. WE LOVE HIM TO DEATH. The training helped us with the early biting situation.
The reason why I am contacting you is because we are thinking about getting Jedi a companion. It wouldn't be until next year. We want to wait for him to be done with training, so I am looking at February or March. I have been looking at your updated website. It puts a big, huge smile on my face when I see our precious dog on your website. I wish that people could see first hand the wonderful puppies that you produce because everyone would by Jack Russells through you. I just want to talk to you about the different kinds of dogs that you have at your kennelbecause I want to make sure that we get our deposit it in early, so we can have first choice in the litter. Is Princess Blue related to Jedi? I was wondering what kinds of puppies Princess Blue and Ernie will produce. We will be getting a female this time. We are going to also have to have her shipped to us. I am so excited about adding a new addition to our family in the future. We just love Jedi to death that we want to share our home with another one of your wonderful dogs.
Thank you again for everything. Please give our favorite two dogs, Molly and Raggs, a kiss from us and a lick from their son. Jedi.
Will and Shana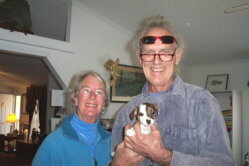 Hi Donna,

Happy First Day of Spring! Hope you had a wonderful St. Patrick's Day . . . do
you and the puppies have your very own parade?

I just wanted to send you a quick note to tell you how very grateful John and I
are to you for selling us the very best puppy in the WHOLE WIDE WORLD! She
continues on a daily basis to amaze, astound and totally delight us. She is so
smart . . . learns new things so quickly and is the STAR of her obedience
class. Carol Mett, her trainer, is pretty smitten with her, too, and we are
already doing beginning agility training which Journey absolutely loves.

Journey and John are inseparable and she has learned how to walk down docks,
hop aboard boats and has an uncanny ability to find the perfect spot to curl up
. . . out of the wind and in the sun. Everyone one who sees her falls in
love.

Her favorite thing is walking in the woods. She needs no leash as she stays
right with us and comes instantly when called. She never barks for the sake of
barking and reserves her comments for very specific instances where she has
something vitally important to say. Her two newest behaviors are pouting when
she doesn't get her own way and curling her lip when her wishes are not
instantly being granted . . . both of which reduce John and me to
uncontrollable laughter.

She fills our lives with such joy . . . we love her beyond words.
Hope all is well in your world,
Lots of Love,
Peg, John and Journey, Savannah, GA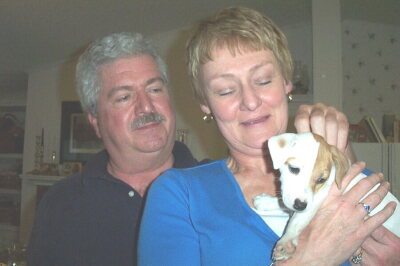 Dear Donna,
You haven't heard from us in a while, so I thought I would just write and let you know how deliriously happy with are with little Reina. She is everything I wanted a puppy to be. She is sitting by me as I write this. What a perfect addition she has been to our family. As you had told us before we picked her up, she is a true tom-boy. And smart. She initiates lively games of tag with anyone- me, Bob, the dog, or cat. She steals clothes just for the fun of the chase. We have met neighbors we didn't know we had- they come by just to see the "celebrity". Socialization is not a problem with her; she hasnt' met anyone she didn't like and everyone likes her. Reina travels like a pro. Her personality blends so well with our lifestyle. We are active and keep her entertained ( or should I say she keeps us entertained!) What a fireball of energy. But she can flip that switch and be cuddly and quiet. She paws at our legs when she is tired and wants to be in her crate for a nap. Just recently she began putting herself in for a nap. Every personality trait you described on your website is the absolute truth about your puppies. We could not be happier with the breed and I am a devoted disciple of the way you raise your puppies. Reina's early days in our house could not have been any smoother due to the exposure she experienced in your home. Do not change a thing. Your puppies are healthy, vibrant, and well adjusted. Sometimes I want to pinch myself just to assure myself that Reina really is mine. Life is good!!
We shall send some photos soon.
Blessings to you and your family,
Renee Martin
Union, Ky.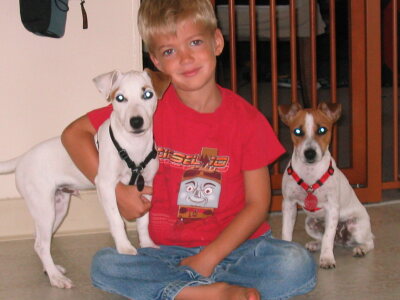 This is Buster and Charlie with Alex Burke of Goose Creek, SC. They are near Charleston. Alex's two brothers were at school when Mom snapped this picture.
Hi Donna,

I know I am terribly late for sending off some photos to you. Little
did I realize how difficult it can be to take some photos of them when
they know the camera is pointing at them. Now that they have become
very good at their basic commands it is much easier. Buster is just
growing like a weed. Even his nails grow so fast. He is so lovable and
affectionate and has such a great temperament. He is quite the jumper
too. It's just amazing to me how high he can get. Charlie is such a
cute petite little one who is always active and excitable wagging her
tail like crazy. And even though Buster has deemed himself top dog over
her, she doesn't let him get carried away with it all. They still get
along beautifully.

Anyhow, I won't ramble on forever, here are some photos I just took
this morning. The other two boys are off in school, so I have them just
with Alex. Thank you again for the wonderful puppies. They are really
a fantastic addition to our family. The boys still just love them like
crazy.

Sincerely,
Laura

Donna
I hope this email finds you and your family doing well. Just wanted to
drop you a line or two on Blaze. He is doing fine, it took a couple of
days for him to get use to being without his litter mates and mom but
nothing beyond what was expected. He seems to have made the transition
and by the way he loves to ride. We went by the Vet so I could introduce
him and get the rest of his shots lined up. They were very impressed
with the portfolio of information that you had to put together. To sum
up Blaze seems to be happy and Michelle and I are enjoying him
immensely. I'll tried and send you some pictures in the near future.

Thanks
Keith Varner
Dear Donna,
We don't know how to begin to tell you how much we love Lucy Mae and how wonderful she is. We are here in the mountains for 2 weeks and of course, we have her with us. Everyone who has seen her had the same comment. "She is the most beautiful dog we have ever seen".
Lucy had her vet check and did well. She seems to have doubled in size since the time we first saw her at 5 weeks of age. She is doing well with training. She can sit, stay, leave it, and come. Potty training is going well also. Dick gets up around 3:00 at night and takes her out and then takes her out around 7:00 in the morning. She has slept well in her crate since the very first night.
Now in the day time, she is full of energy. I worry about her going and running so hard. She goes up and down the mountain, climbs up rocks and digs and buries things and has a wonderful time. Of the dogs she has met she is definitely the dominant one, even though they are 3 or 4 times her size. She is "fearless"!
But she will cuddle up beside us and sleep. She will lie on the floor and watch me doing household duties, sit with Dick and watch TV, and swing in the porch swing with us.
Our house looks a bit different with all of the dog toys, crate, dog food etc. , but it is all worth it.
Thank you, thank you for our wonderful little dog. We love her so much!!
I can't send pictures from this computer but I have taken some and will send them as soon as we get back to Lexington on Sept. 1st. We will keep up with you through the web site. It is always good to see all of the pups and read about how many have been born etc.
God Bless You,
Gwen Shaffer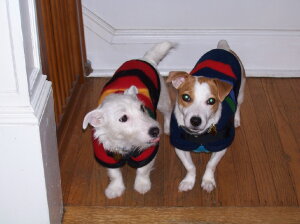 Hi Jonna,

Your name and email address was forwarded to us from Donna Fitzpatrick,
owner and operator of Trinity Farms, Aiken South Carolina . We understand
that you are seriously considering the purchase of one of Donna's puppies.
In order to assist you in this very important decision, we wanted to share
with you our personal experience in this process. Just last summer we
had the pleasure of securing our 2 puppies from Donna. Their names are
Angel and Allie and they are great. We find these puppies balanced in
behavior and appearance. They are self assured yet not aggressive. In
typical terrier style, they are active and energetic. We enjoyed working
with Donna on our journey as we prepared our heart and home for our new
additions. Donna was great in keeping us up to date on the progress of
each puppy's development and any other acts of comedy that also tends to be
characteristically JRT. When we finally picked up our puppies in July,
it was a joy to meet both parents of our puppies and to see first hand the
commitment that Donna and her family have made to this special breed of
dog. The fact that Donna is in SC and we in Baltimore did not discourage
us in our decision. Every thing came together in a wonder way and Angel
and Allie are a joy!

If you would like to meet Angel and Allie, we certainly would be more than
willing to meet you at a place of your convenience. We live in Baltimore
City, yet would have no problem coordinating a time or place that will
work for you. Should you have any questions, please let us know.

Sincerely,
Cindy Hess
Kerri Buckley
Baltimore MD
To Donna of Trinity Farms and Kennel;
We love our new puppy, Miss Kitty. She goes everywhere with us. Right now she is snuggled in her bed in my office. The girls in the office fight over who gets to babysit when I leave for lunch. When we visited the vet for her booster shots the attending vet had to show Miss Kitty off to the other vet in the clinic.
She has started puppy classes and picks up the treat idea REAL quickly. She has gone to one puppy party and before the end she was chasing a Sheltie pup at full speed. She loved the interaction with other pups. She is extremely smart and loving. I can't imagine being without her.
We have known several people with horse farms that own JRT's and the dogs were always so playful and full of life. I was considering a JRT and decided to go on the internet and take a look. Luckily I found your farm and we were able to purchase Miss Kitty.
I would not hesitate recommending you and your farm to anyone looking for a JRT. You have been wonderful to work with and we are so pleased with our new addition. You have a wonderful website and the info packet that came with the puppy was much appreciated.
Linda Pawlowski
Owner New Venture Farm, Wisconsin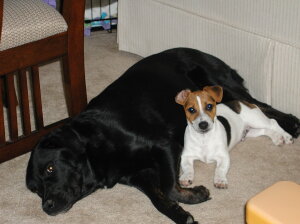 Dear Trinity Farms
My family and I want to thank you for the wonderful way you helped us pick our little boy Quinn and for the love and attention you gave to me and my family, and I am forever grateful. You made this time special for us by taking your time and our time to pick the right fit for our home. Quinn is spectacular, he loves our family, my children, and his big sister, a mix Lab named Lillie. They are best friends and inseparable. He is crate trained and hardly makes potty mistakes due to our vigilant care for him but he has ended up in bed with my husband and I at night and has made himself at home in our bed and cuddles in between us.
He has learned how to sit and breaks all the girls hearts at his Dr?s office. He is truly an Irish lover and shorty. My husband always says ?he is such a good boy? He loves his routines. He is doing well with learning how to walk on his leash and harness but loves to walk with Lillie.
Everyone always says how cute his eyes are and that is exactly why picked him. I hope that people know to truly trust Trinity Farms to add an addition to their family and I look forward to meeting you again Donna and your husband.
Lisa and Family Gombotz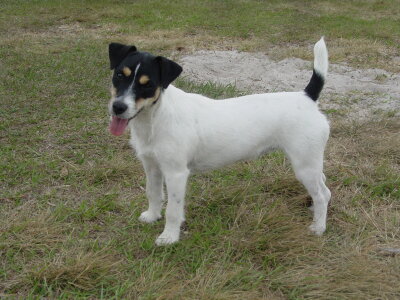 Hi Donna,

I just wanted to let you know that Felicity's spay certificate is in the mail.
She was spayed in January.
Felicity is doing very well. She has completed both beginner and intermediate
obedience classes, and will start advanced in April. The instructor just loves
her. Felicity is so focused in class that the other students are all amazed at
how well behaved she is "for a Jack Russell." She is certainly giving JRTs a
good name. The trainer simply tells people they can all be like this if
trained correctly. Felicity really loves class. Next on our agenda is agility
training. I think she will love it.

As far as hunting goes, she does have the hunting instinct. She is the BEST
dead frog and dead snake hunter I've ever seen. She leaves the live ones
alone, thank goodness. But I am constantly getting little, dead presents from
my girl! She puts them right into my hand, what a sweetie.

We are very happy to have Felicity in our family. She is my assistant trainer
with the horses and is really good with the boundaries about paddocks, rings
and stalls. (She is not allowed inside them.) She takes her job very
seriously. She and her big brother Calvin, our golden, like to come on trails
with me, too.

I've attached a couple of photos. One is Felicity in her new bandanna at
Christmas and in the second she is sound asleep with her brothers, Calvin and
Foster.

Felicity is the happiest dog I've ever seen. Her name really suits her. She
is always smiling and wagging her tail.

Well, that's enough for now I guess! I keep checking the web site, looking at
the new pictures. It's so nice to see all the dogs on the site. I'll send
more pictures when I take some good ones.

Take care,

Michele Dawson
Stuart, FL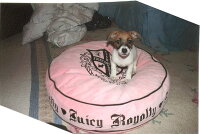 Hi Donna
We took our little Bailey to the vet and she is doing fine just settling
in. She spent today with our daughter Missy, both had
a blast. We have Bailey taking over the family room!!!
She does very well with the peepee pads. She already
is stocking up her toys. We move them slowly!! She is very
smart.. my husband loves her kind eye and my son can?t wait
till she has all her shots to take her around town!!!

I love how she trusts me...she is soooo sweet and I am so glad
we waited for her!!! I can?t thank you enough as I'm looking
forward to many years of joy with our new baby!!! She
loves to cuddle!!!! You couldn't have picked a more perfect
baby for us!!! She curls up in my neck to sleep. Last night
she almost went through the whole night without waking up.

I will send pictures soon and thank you again for the joy you have
brought into our home. We will always miss our beloved
Bobin?.but Bailey helps the heartache. And she does it
with so much love of life and with so much fun. How awesome she is, what a pistol!!
What a character!!!
We love her dearly. Thank you again for helping us pick out the best new family member.
Patty Skinner
California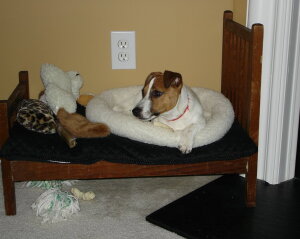 HI Donna
Autumn is doing wonderful and we love her so much. We can't imagine life without her. She is so smart and is learning new things all the time. We are so pleased with our choice in getting a Jack Russell from you. We can tell she comes from the best stock and everyone always asks about her temperament and we brag how wonderful and calm she is. We love her so, thank you again.
Susan, Ryan and Autumn Orr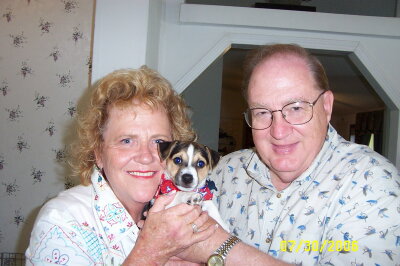 Dear Donna
A special thanks to you for all the care and extra kindness in helping us to get ready for our "JR". We are so lucky to have found you and your famiy and look forward to a continued relationship as our puppy grows in the coming years.
Please if you are ever in Houston, call and come to see JR! Thanks again for our little fellow and we will keep in touch.
Don, Carolyn and JR, Texas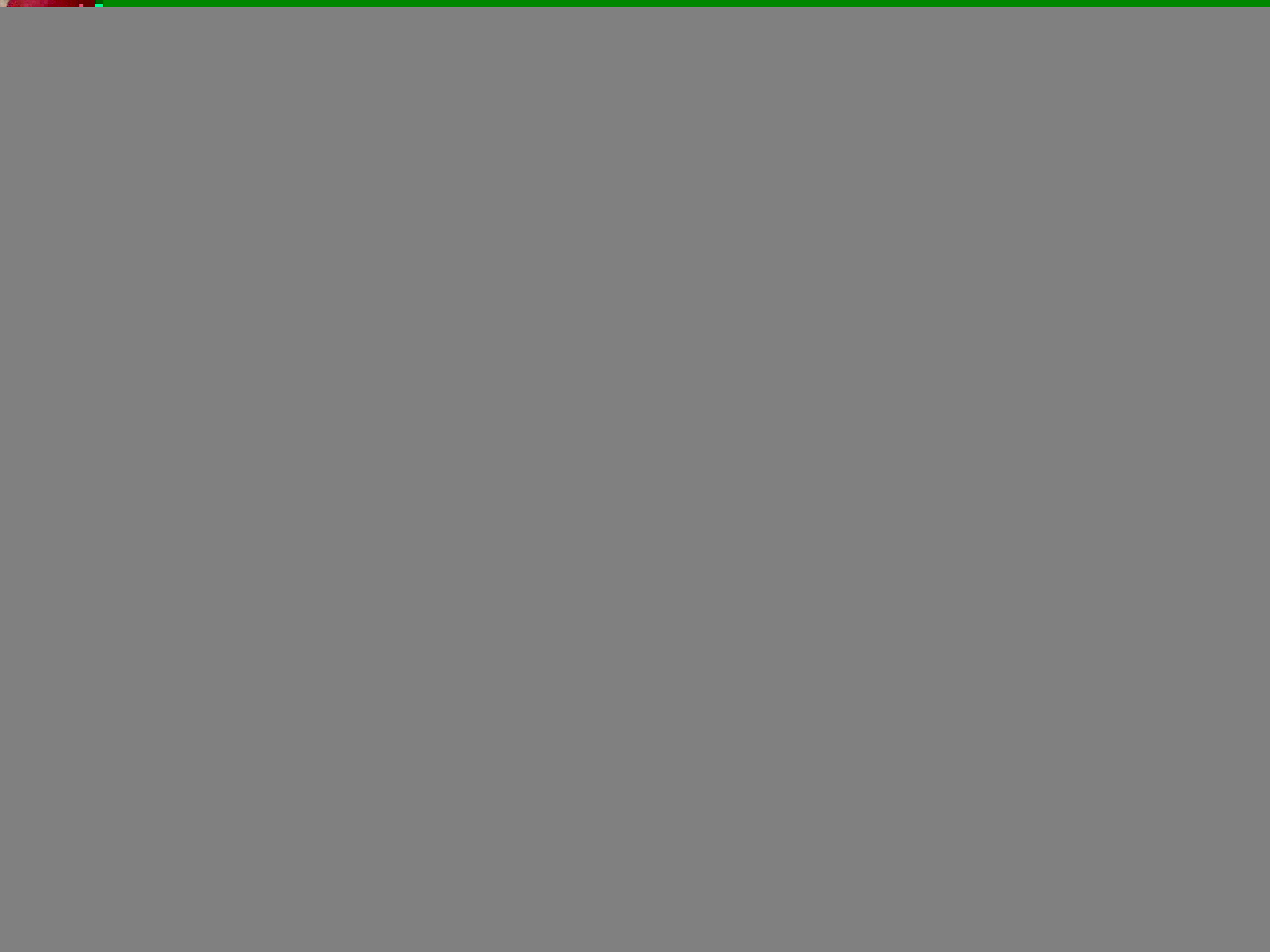 Dear Donna
I just wanted to touch base one more time before Christmas to let you know how our little puppy is doing. He's PERFECT! I can't believe how well behaved he is & how incredibly smart he is! He's learned his name, comes when called, and responds to "No" if he's doing something that he's not supposed to be doing. (like chewing on the dining room chair legs) He's bonded with our one cat, Kit-Kat, but Thomas is still keeping his distance. Thomas has established that HE is the "alpha-male" and there's no way a little puppy is going to assume that role in this house. But Munster doesn't seem to mind. He is happy 100% of the time. Of course he's bonded to me the most, but that's because I'm here with him all day. If I have to go run errands, he goes in his kennel & comes back out when I'm back. He loves to cuddle - he plays so hard that he will curl up & sleep on any one of us no matter what's going on, when he's tired. When we go on walks, he knows when we're back at our house & he knows that I'm going to take his leash off & that it's time to poop. He knows he's going to get a treat after that! I just wanted to tell you this seriously - I have three kids, we are a blended family & I was amazed when Jim & I got together as to how easy it was to make room in my heart for Nick & Madi when I thought it was already full with Keller. I didn't think there was ANY way that I was going to love this little puppy as much as I do. He is the greatest - ever. The entire atmosphere of our household is just full of love and fun. Thank you so much for making that possible. I sent pictures so that you could see how loved he is - The first one is of Nick, Madi, Keller & Munster - our first Christmas together! The second is of Jim & Munster - they actually look alike! I told Jim that this picture should be on the cover of a JRT magazine! I did mail back the paperwork & am in the process of researching to find a good vet. Happy Holidays to you and your family & all your little puppies. I wish you the best season and all the best in the future.
Sincerely,
Kristine
Testimonials | Photos of Families