Dog Food Facts | Health Research | 49 days of growth | Dogs & our health | Housetraining | Training Tips | Photo gallery | Neat dog photos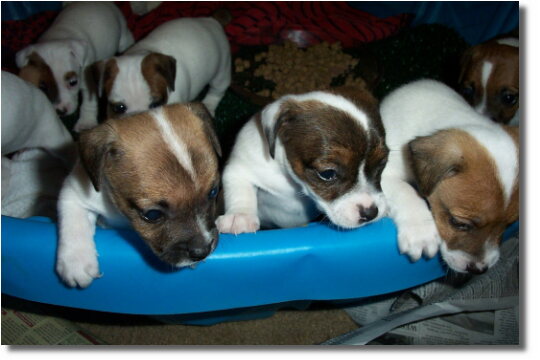 Hey guys, this is the way out. Raggs and Daisy's 2002 litter.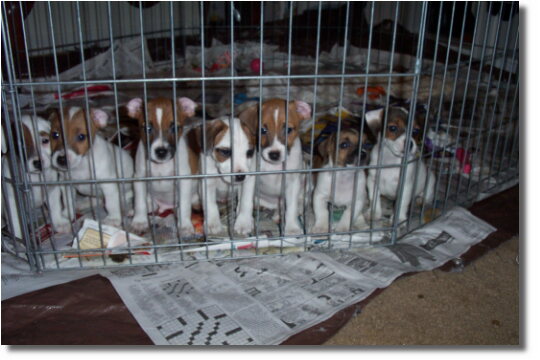 Hey, we've been good, what's the deal with the jail? Let us out, we need to steal some slippers, hit the shoes, and get some socks off of Sean's floor.
I'm having what! How many? (7)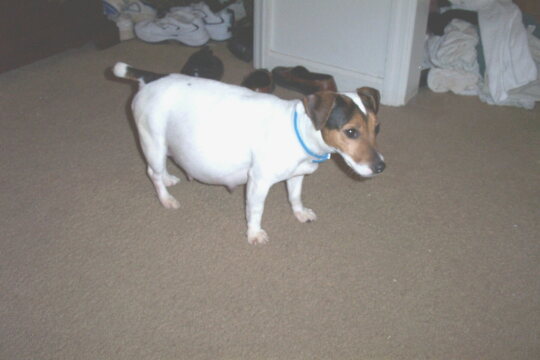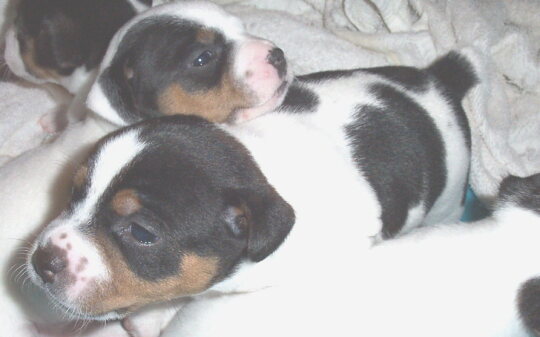 Moose, front, who now lives with Dennis and Michelle in Wyoming.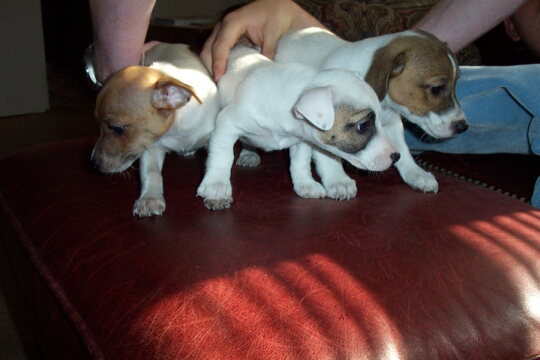 Sweet Pete is in Springfield, SC; Popeye is in California; Happy is here in Aiken.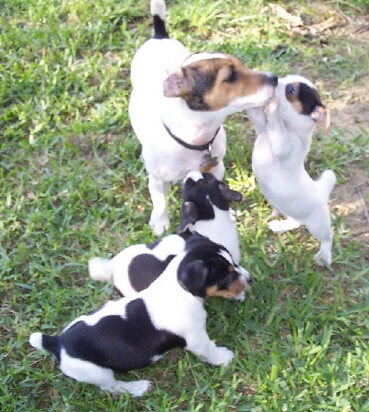 Hey, Mom, let's play some more.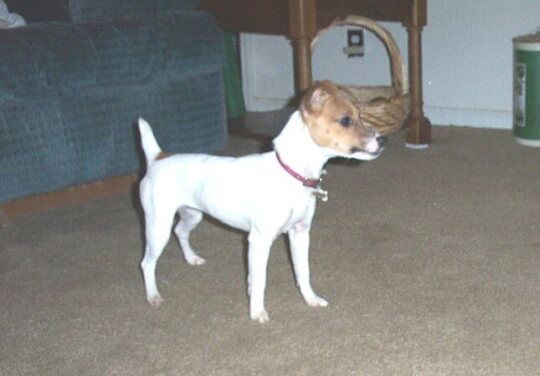 Princess Blue's nickname should be called Rocket Lady, always in motion.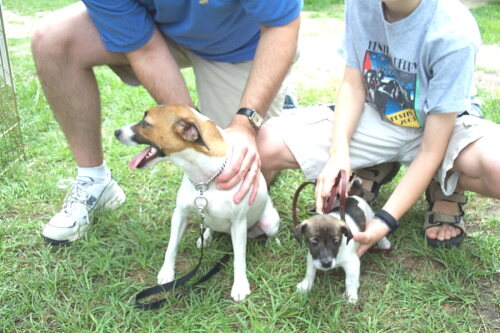 Hallie, born 2002, 14" tall, slim, athletic and elegant and her half-brother, Dougal, born 2003, who will be small, stocky and short-legged. They are good examples of two very nice dogs with the same sire, and different dams. The sire, Raggs, carries phenotypes for great body type and structure and very nice, fine heads. Both are very different styles of Jack Russell Terriers.
This is a good example of how JRT's are a type or strain vs. being totally purebred and they do not throw mirror images of themselves like Golden Retreivers or Labs.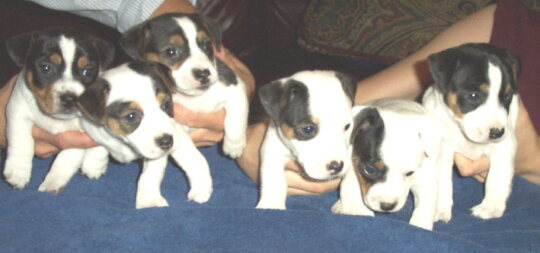 L to R: Daisy & Rocky's April, 2003 litter: Moose is in Wyoming, Batman is in Ohio, Winston is in Wagoner, SC, Petey is in Augusta, GA, Dutchess is in Aiken, SC, and Ernie is in Petticoat Junction, SC.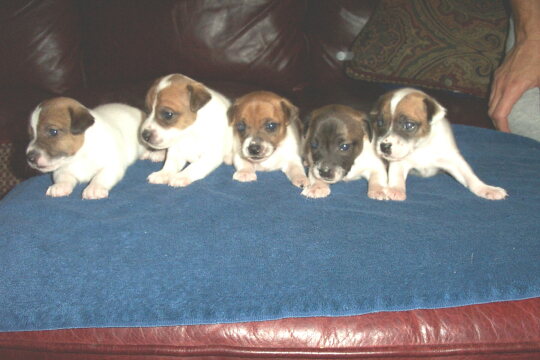 Raggs & Molly's April 2003 litter: L to R Happy and Lou are in Aiken, SC, Sweet Pete is in Springfield, SC, Dougal is in Augusta, GA and Petey is in Augusta, GA.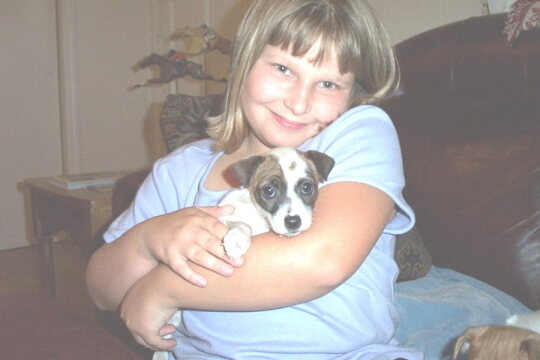 Amanda and Little Rose, Trinity's first female puppy. Rose now lives in Evans, GA.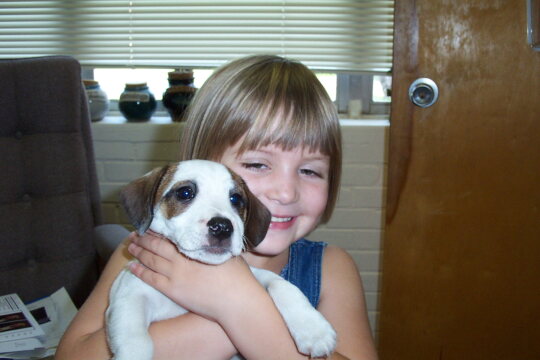 Bear goes to the Principal's office. His new name is Ernie and his humans are Mom, Libby and best pal, Olivia. They all live in Greenwood, SC.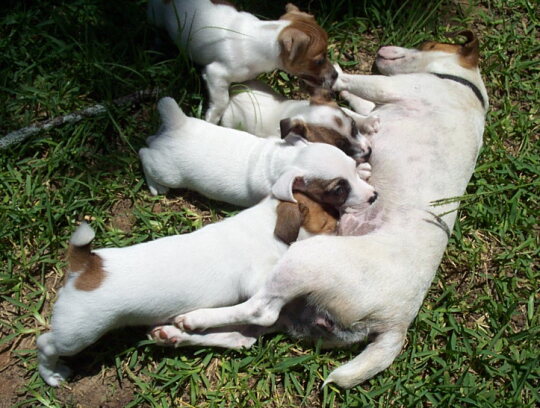 Trinity feeds hers, and Molly's boys. She is truly a Super Mom, with a superb disposition.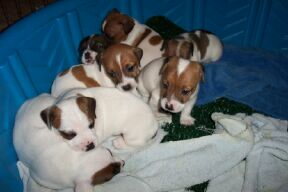 Raggs and Daisy's 2002 litter:
L to R Angel traveled to Germany, then Chile and Argentina, then on home to Hawaii; Scout is in Aiken, SC; Tucker and Ernie are both in Greenwood, SC; Hallie is in Oregon; Diddy is in Aiken, SC and Carolina Nettie is in Greenwood, SC and she reads a lot of the Index Journal newspaper.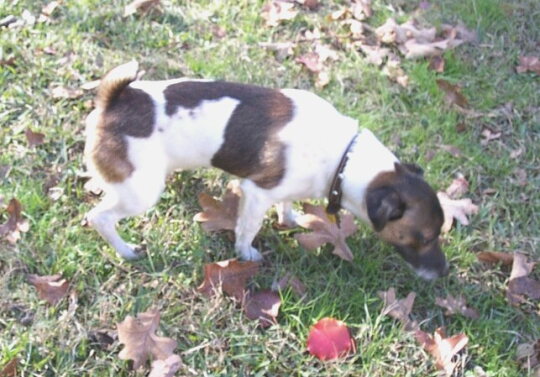 Dougal at 8 months old. He is everyone's favorite boy. He belongs to Margaret, David, Brooks and Skylar from Augusta, GA. He spends a lot of time at Pinetop Farm in Thompson, GA.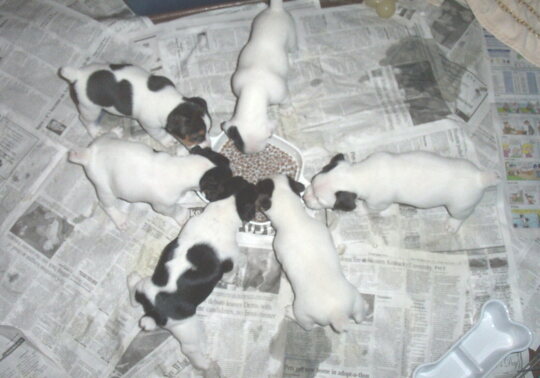 We start our puppies on Eukanuba and milk for "cream of kibble soup". We then switch to all dry after slowly decreasing the milk. They will be eating dry food by six weeks of age.
Dutchess, playing with her buddy who is a Caphucin monkey. (The monkey is in the diapers.)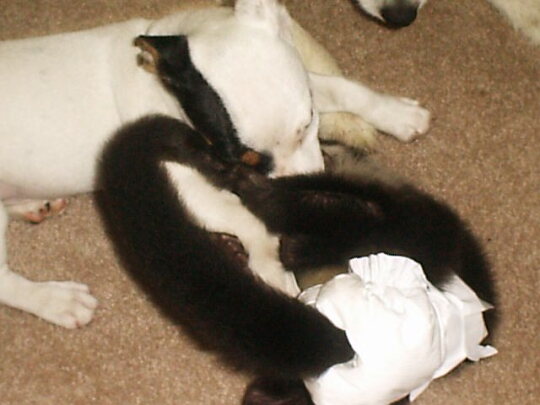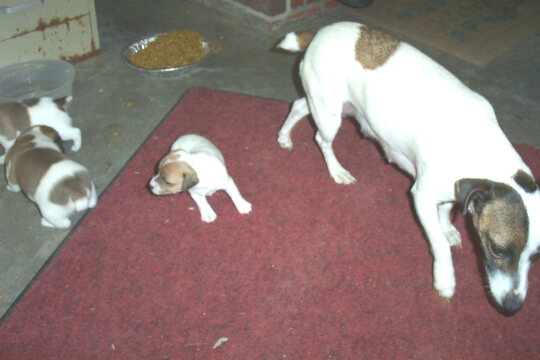 Missy and her Fall, 2002 litter. Missy is the mother of Raggs, Trinity and Princess, our English line developed by the Hewitt's of Florence, SC.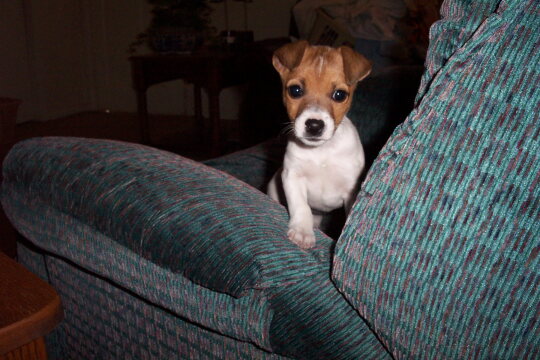 Princess at 3 months in our favorite chair. What a precious face and loving personality.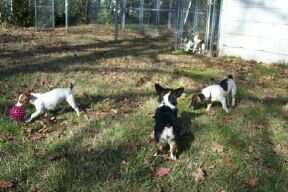 Dallas, BeBe (Corgi) and Dougal playing in the yard.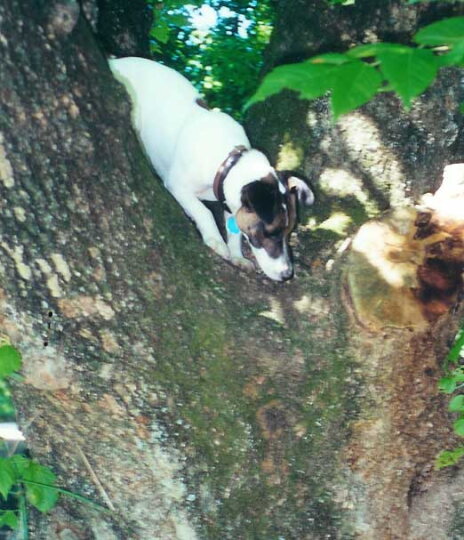 Raggs says, "I had that squirrel, I did, I did!" Well, I almost did.
Momma had to lift me down, I jumped up here but couldn't get down.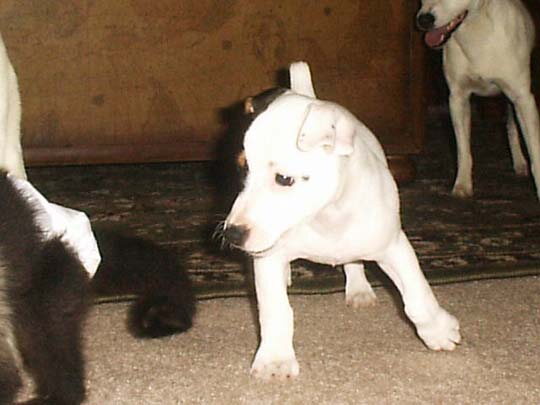 "Where'd that monkey go?", says Dutchess.
Dog Food Facts | Health Research | 49 days of growth | Dogs & our health | Housetraining | Training Tips | Photo gallery | Neat dog photos