About Us | Fitzpatrick Roots | Map & Aiken area | Site Contents
Irish Jack Russell Terriers
Our philosophy is simple...start with legends,
and build from there...
Breeders of Legendary bloodlines
We're still here, operating since 1974 and into 2023!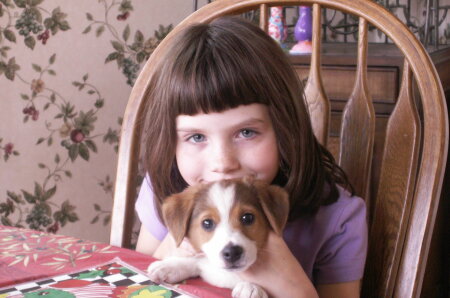 Because you invest your Heart in your puppy...
Your peace of mind with your family is our priority.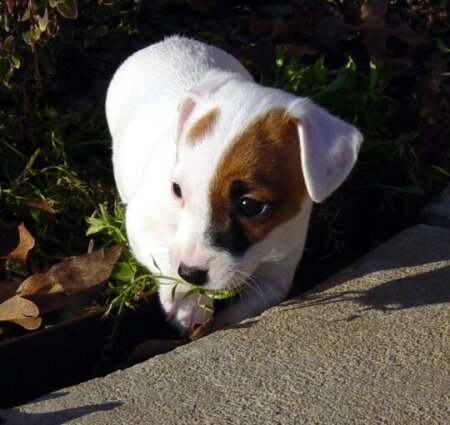 Letting Legends Lead the Way....
Quality, family dogs who have proven, calmer dispositions & sweeter personalities.
Russells with deep histories of proven generations of great temperaments.
Breeders of Irish Jack Russell Terriers for 46 years.
Legendary & private bloodlines from Old Ireland.
We are committed to continuing the tradition of Preserving
and Protecting these little Terriers to ensure their
authenticity & historic exclusivity.
Superb Quality, Integrity, Service, Satisfaction Guaranteed with every puppy.


We wish everyone a very Happy New Year 2020 with friends & family.
Thank you to all our Armed Forces for their service to make this possible and keep our country safe!!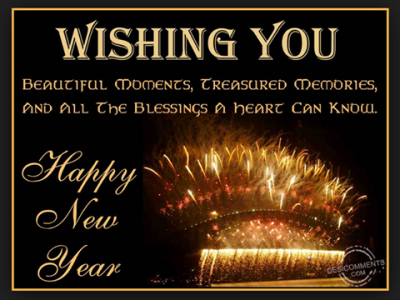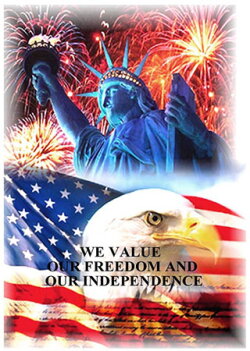 Landlines are down, please call on Donna's cell.

803-443-1467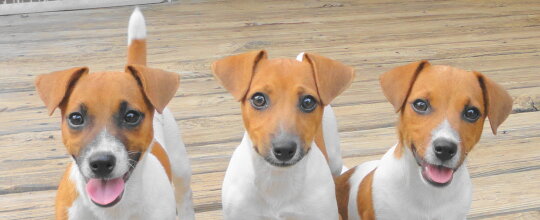 OLD FASHIONED QUALITY
CHARACTER - COMPASSION - COMEDIANS TOO,
WHO HAVE LONGEVITY AND TONS OF LOVE TO GIVE
THEY PASS ON A KIND EYE, SMART MIND, AND TRAINABILITY
THEY LIVE TO PLEASE YOU!!!
HARKENS BACK TO THEIR ESTEEMED BLOODLINES.
BREEDING FOR WILLING MINDS, STRONG CARING HEARTS,
HEALTHY & HEARTY BODIES
LOVING & TALENTED INDIVIDUALS FOR FAMILIES.
THESE DOGS ARE TRULY TREASURES FROM OLD WORLD LINES.
BECOME A PART OF THE HISTORY AND THE HERITAGE
OF THESE RARE AND SPECIAL IRISH RUSSELL LINES.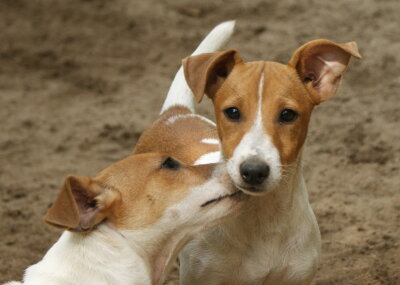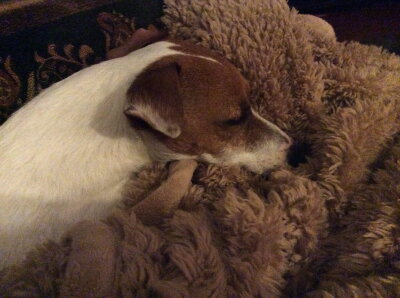 Pixie Russell, sister to Faith, Hope and Sabrina.
Sleeping on her pillow by the fire waiting for Santa in NC.
"Enhancing families' lives - one puppy at a time."
Our passion is to help families create warm experiences and memories that will last a lifetime with their new puppy.
And to make it easier for everyone to enjoy their family times together with Peace of Mind.
Playing with your family and children.
They're protective of their family and home. They have softer personalites and are actually security who you can snuggle up with - who sleep with your kids.
A built in early warning system as they are dedicated to their family.
We remove the worry of unknown aspects of a
puppy's early life in how he or she was raised.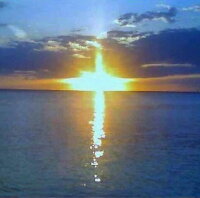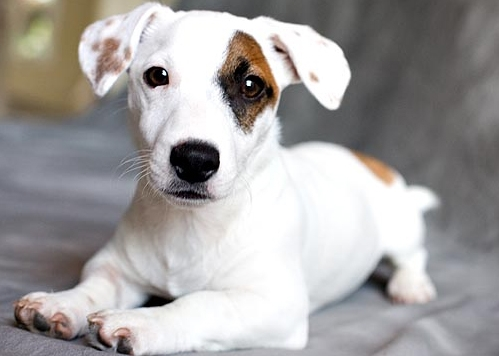 Letting Legends Lead the Way:
Welcome to Trinity Farms, our small family farm where we've been raising Jack Russell Terriers for over 40 years. In all the Jack Russells we have lived with over the years and studied, our experience kept us with the Irish JRT's, 12 inches and under. Jack Russells from Ireland have more amenable dispositions and their personalities are much more easy-going. They are family pets that live with various kinds of animals on the farm, and do not hunt the family cat, sheep, goose or chickens.
At Trinity Farms our goal is to provide you with a healthy, happy, superior quality dog. We specialize in Russell Terriers, natural rearing with healthy traditions; puppy training and raising family pets, hand-raised in our home and family environment. The Russell Terrier is an intelligent, even-tempered breed, docile with its owner and loving with children, family and pets. With our many years of experience and our trained eye, we will evaluate and help you pick the perfect family pet for you and your children.
I have spent the greater part of my life studying dogs, their behavior, their physiology and their intelligence. I grew up with dogs as my family raised them. I think people are better humans because our dogs help us to be better people. We have to live up to their high expecations of us. Whether they sit and listen to us, become therapy dogs, companion assisted therapy or just to help watch over us.
We love them all and we protect each other.
We work to match the personality of the puppy to the personality of the family. We will train your pup to listen and prepare him or her for your family. We also strive to create the happiest, and most completely unique experience for you as you search for your new family member. Your family's happiness is our goal and we want your experience to be truly wonderful and a happy time in your life to remember fondly for years to come.
This above photo is of Fenway, who now lives in MA. Stephanie Rue is his photographer from California.

We are breeding Old World Irish bloodline JRT's. 50 years ago we got away from the old style hyper jacks which have had a bad rap from the American line inbreeding for hunting aggression for the show ring here in the states. We diligently searched and found undiluted bloodlines and healthier dogs from Old World legendary bloodlines vigilantly protected by a handful of breeders.
We want our dogs to be wonderful family dogs, and breed for a balanced and better, calmer temperament and sweeter dispositions, concentrating on temperament, health, conformation and correctness of type for the breed. Our Russells still have the working ability, but they can turn it 'on or off.' Some of our Irish lines you'd have to teach them how to hunt.
JRT history: The taller Parson Jack Russell Terrier, the 12" - 18" hunting dogs were brought here in the frontier times by the English settlers. People saw what great, hunters they were after rats in the barn, gophers and badgers. With so few here in the US, people interbred them with the Smooth Fox Terrier and the Fell Terrier, which increased the hyper and aggressiveness in the American Parson JRT. The AKC recognized the Parson Jack Russell Terrier about 25 years ago.
Then in 2004, the AKC recognized the Shorty Jack Russell Terrier, as a different and distinct breed altogether, from the Parsons Jacks. The AKC used the name Russell Terrier to differentiate the two breeds. The Russell Terrier is the shorter version usually about 10-12" tall and is a very much a people-oriented dog vs. a dog-oriented focus. They do indeed think they are part of the family and think that they are people. They bond readily to their new family. They would be upset to find out that they are dogs!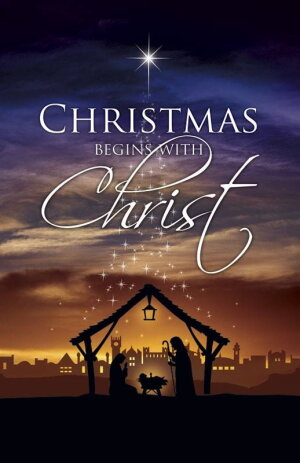 These photos of Kiera, Miss Kitty and Peanut were taken by photographer Caryn Henry of Milwaukee, WI.
| | | | |
| --- | --- | --- | --- |
| | Pierce says, "They wouldn't let me drive.....relegated to the back seat." And I passed my puppy class too! | | 4 back seat drivers on the way to The 4 Jacks Cabin in the Sierra Mts. in Calif. |
| | | | |
| --- | --- | --- | --- |
| | Maggie Moo gets her name! | | Best friends - kids and puppies |
| | | | |
| --- | --- | --- | --- |
| | Little Scout in Dad's boots. | | Dad said "No dogs in bed, I'm not a dog....I'm Scout. |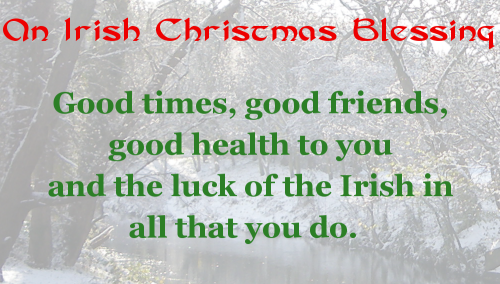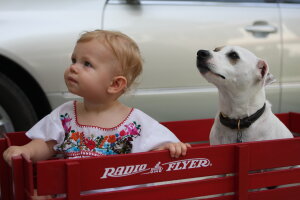 The most valuable thing in the world is the time spent with those we love.
We hope to give you the Gift of Time with your Best Friend.
We take the responsibility of this Legacy shared with us very seriously.
We are preserving these bloodlines for generations to come and our goals are unmatched in preserving the health and integrity of these Old World bloodlines.
This is a conservancy project in protecting the health and longevity of these wonderful terriers that are living history legends, in your home!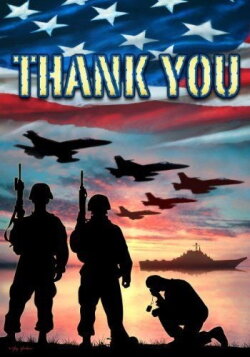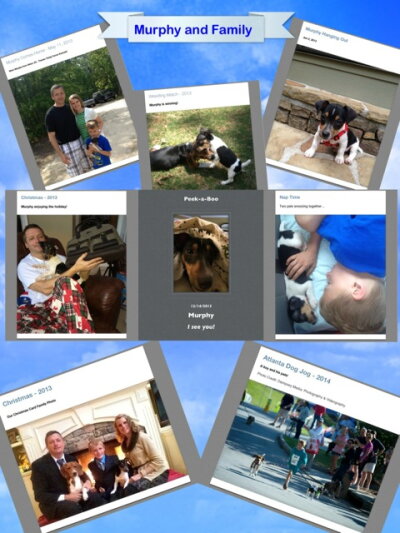 Murphy's Family Collage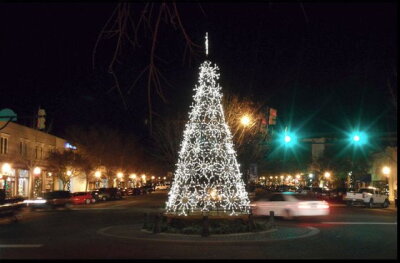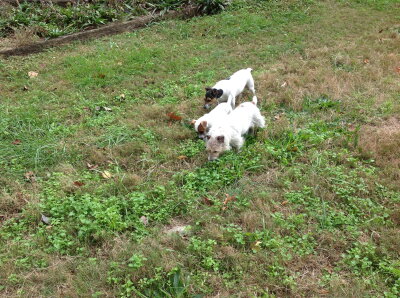 Bill Davis' three Trinity girls are the Three Musketeers as they tend the baby goats!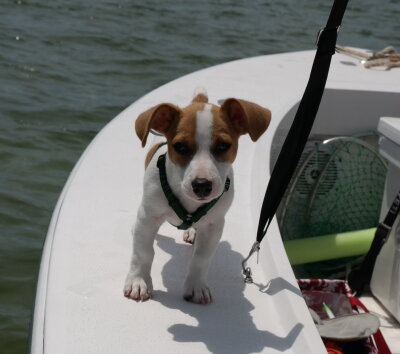 Mr. Biggs on the family boat, Florida, July 2014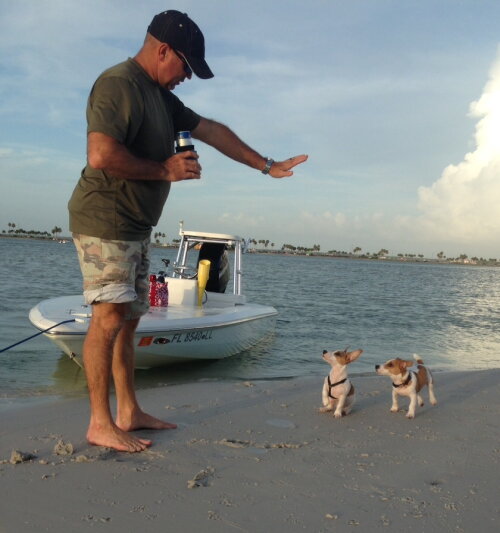 Biggs & Billy get training on the Florida beach, August, 2014.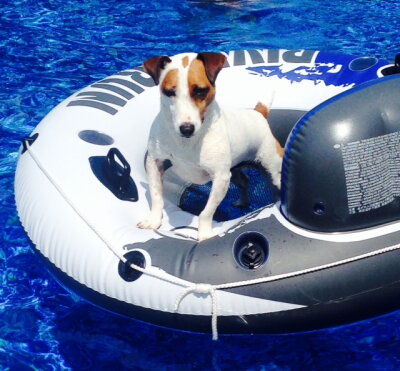 Pierce, muscle man dude, surfing on the float with the family!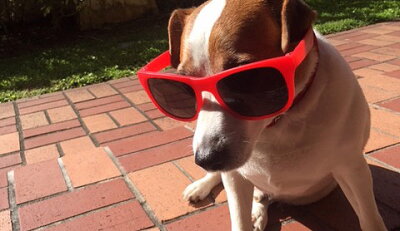 Buddy in Miami.....such a cool dude!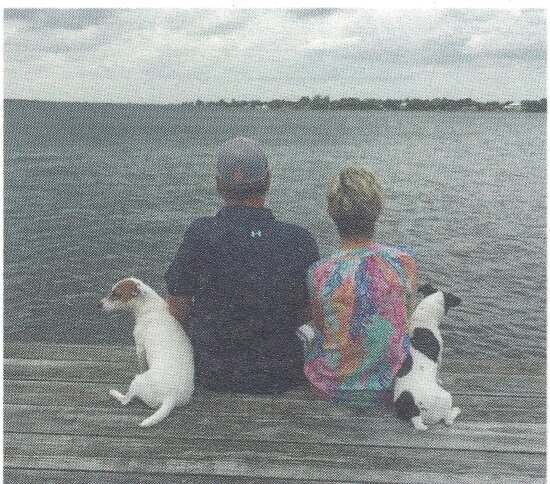 Sitting on the dock of the bay......enjoying Florida with our JR's, Score and Shi.....great day.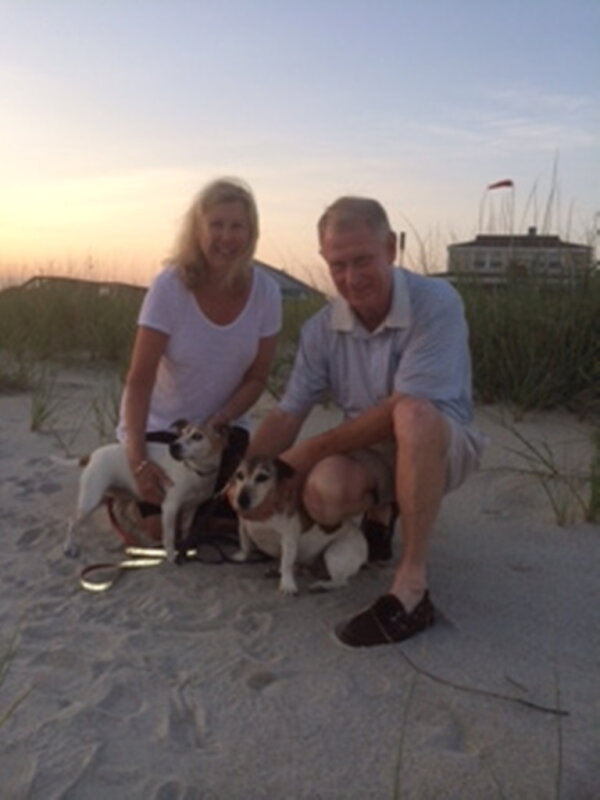 Trudy retired to the beach with her adoptive family!! Trudy was born in Ireland and is
the Mom of Scarlett and Bevan.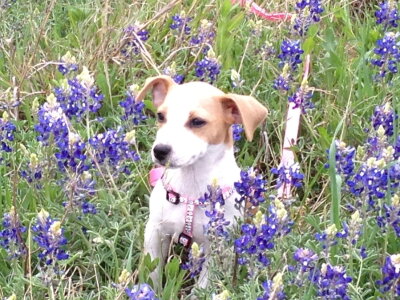 Chloe M. sitting in the Texas blue bonnets, such a sweet face.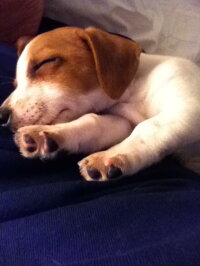 William M. in Charleston, SC sleeping, so cute!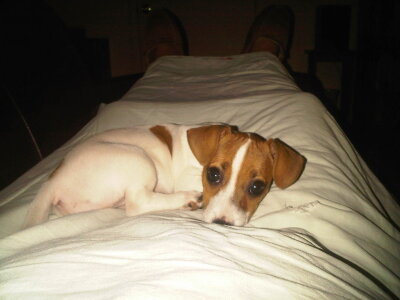 Sadie B. has the sweetest eyes don't you think? I'm staying wide awake waiting for Santa.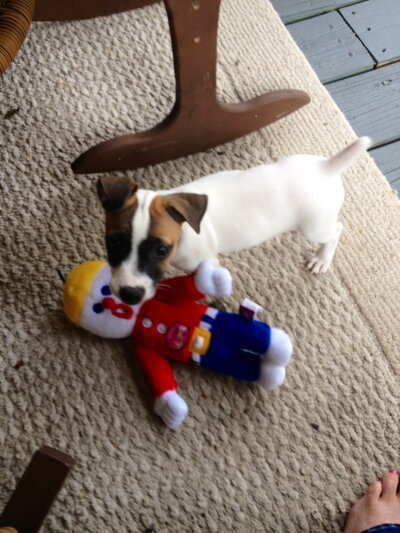 Maxwell in Columbia, SC knows how to get Mom and Dad to chase him!!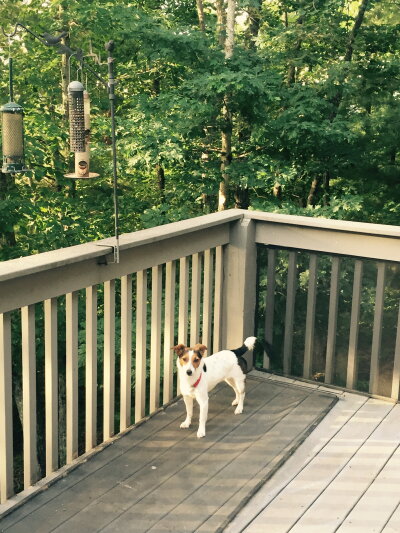 Chloe, whose picture you see above this with the Marine bear...........well, she saved her family from a bear recently.......in real life!!
Abe and Rosemary's bedroom is on the second floor and it was a nice cool night so they had the sliding glass door open.
Chloe sleeps in the bed and suddenly tore off the bed and was barking wildly at the screen, they jumped out of bed to see the bear at their door just a few feet away.
The bear swiped his paw at Chloe and tore the screen. Well, Chloe wasn't putting up with any of it!!
She barked and jumped at the bear and he climbed back down off the porch. They must have come up for the bird feeders?
The evidence is the screen which Chloe is standing on top of, on the bedroom porch second story deck.
Amazing little girl and her family is so proud of her and shared their story with me so I could share it with your family.
GO CHLOE!!!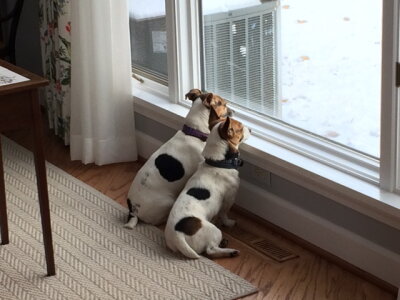 Peyton and Cleo in CT in 2015 snow storms, two related cousins having fun.
Fenway in Kansas City waiting for his three big teenage boys to come home from school.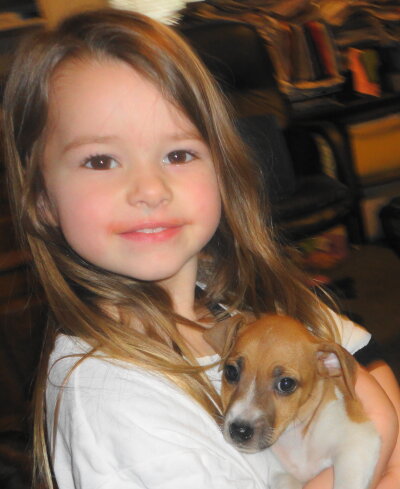 Lovely Sophie from SC holding one of Tully's pups this past January 2015.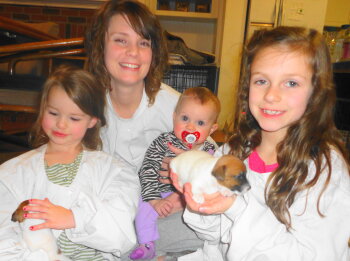 All the girls visiting to meet all the puppies as they look to make thier selection.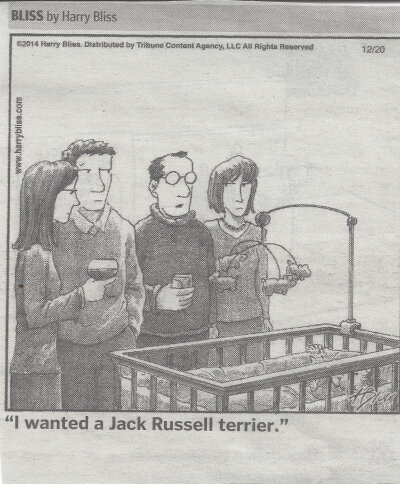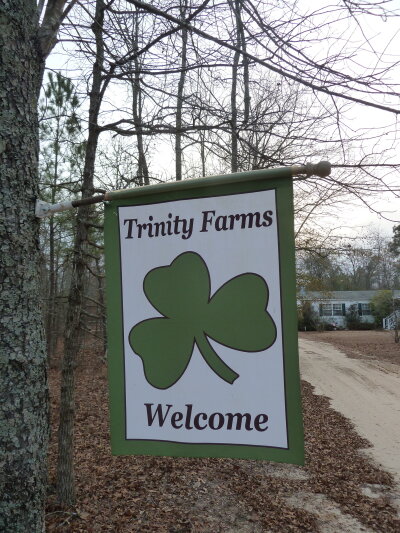 You can't see the house or the flag from the street, but once you turn in the driveway you'll see the flag and the decorations and know you're in the right place.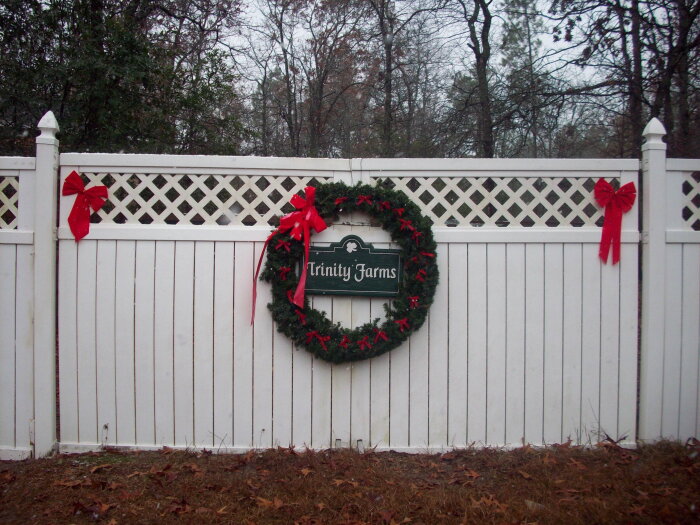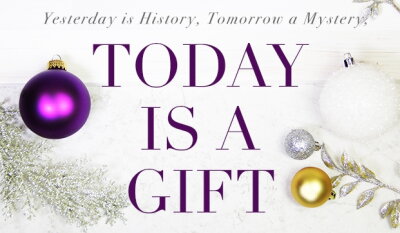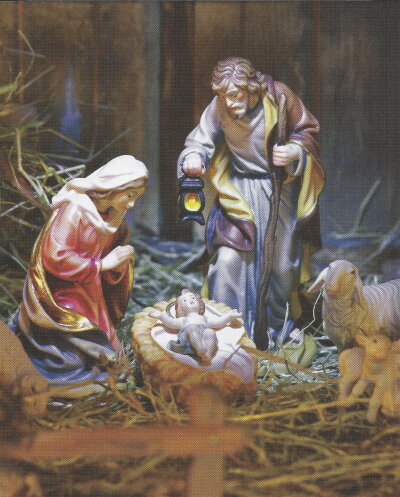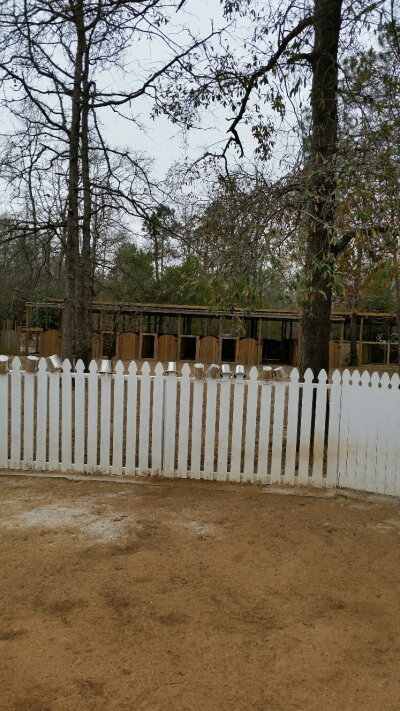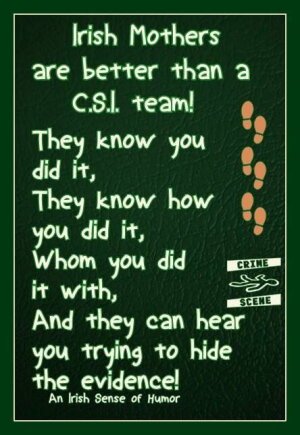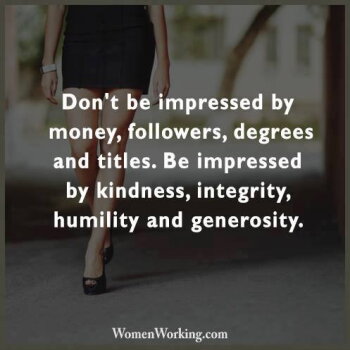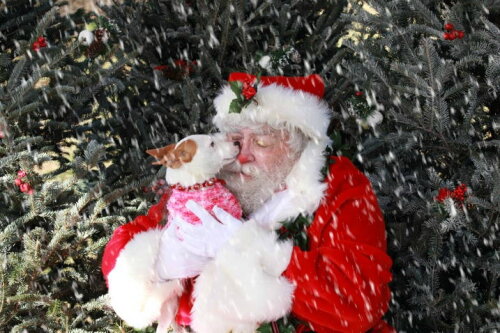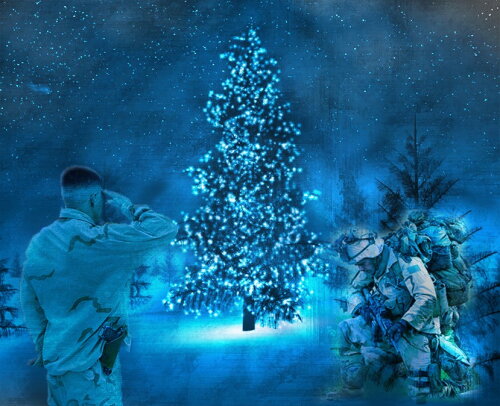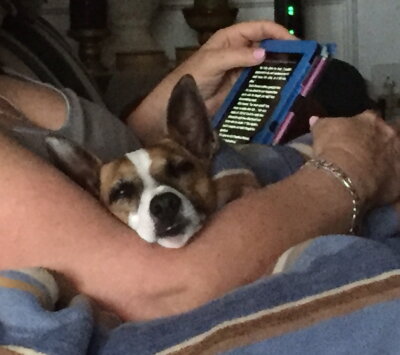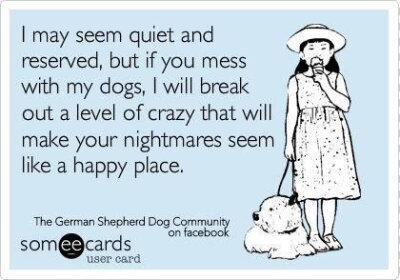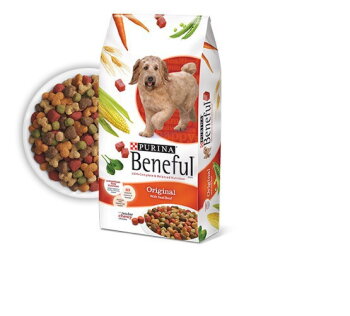 Purina's Beneful is one of the worst foods you could feed your dog. It scored 7 times over the limit for the severe deadly pathogens found in their food. See chart below.
Beneful has been killing a dog every 3 days for 8 years now.
Don't be swayed by slick marketing commercials of shiny pictures on the bags. See the letters from the FDA warning them to clean up their food and stop making thousands of dogs sick.
Purina One is not any better: of the 44 listed ingredients there are only 5 that are any good. Find salt in the list of ingredients, anything after salt is less than 1% each listed. Poor quality pet food is the second leading cause of the decline of our pets' health. Over vaccination is the first and largest cause.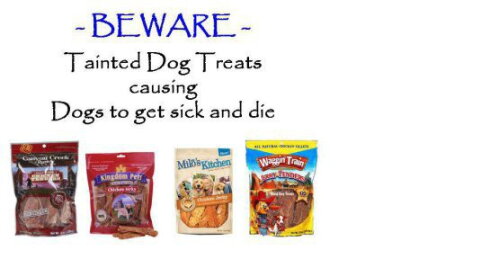 Canyon Creek, Kingdom Pets, Waggin Train, Milo's Kitchen.
Purina just bought Zuke's natural treats, which were wonderful.
Now these are on the Danger, Do Not Buy list.
FDA Warning to Purina Pet Food Plant
January 19, 2015 in Pet Food News3 Comments
The FDA issued a Warning Letter to a Purina Pet Food canning facility finding "significant deviations" from pet food regulations. Though no recalls have been issued, FDA had serious concerns about this pet food plant.
The FDA Warning Letter stated their inspection lasted for two weeks – from September 15, 2014 through October 1, 2014. Inspection revealed "that your facility has significant deviations from the LACF (low-acid can food) regulations. Deviations can make your pets sick with too much or too little or any ingredient.
The inspection found that this Purina plant deviated from the required processing of the pet food – and further did not document the deviation (as required by law). The FDA Warning Letter stated "your firm did not provide documentation associated with the evaluation of the entire lot of product affected by the process deviation and did not provide documentation and/or the specifics of your corrective action plan in order to ensure that your firm will prevent these occurrences in the future."
FDA also found temperature drop concerns with the pet food manufactured at this plant. Law requires canned pet food to be heated to specific temperatures and any variations of these required temperatures are required to be noted in a log. This Purina plant did not document the drop in temperatures.
FDA "observed" that the conveyor system in this plant did "not have adequate protection in place to prevent an unprocessed can" from ultimately reaching the consumer. An 'unprocessed can' of pet food would be an uncooked can of pet food – uncooked can of feed grade ingredients that could be full of dangerous bacteria. Purina responded to FDA they are in the process of correcting this issue, however FDA stated "We do not consider this response acceptable because you did not provide specifics of your corrective action plan in order to insure that your firm will prevent these occurrences in the future."
The public FDA Warning Letter to Purina – posted on the FDA website – does not provide lot numbers of products involved. The only information consumers have is product names – listed below. All of these products are canned/moist foods.
Alpo Prime Cuts with Beef
Alpo Chop House Originals Filet Mignon
Alpo Chop House Originals roasted Chicken
Friskies Mariner's Catch
Friskies Mixed Grill
Friskies Gravy Sensations with Turkey and Giblets
Friskies Supreme Supper
Friskies Indoor Chicken
Friskies Salmon Dinner
Mighty Dog Chicken Egg & Bacon Country Platter
Mighty Dog Chop House Originals Filet Mignon
Mighty Dog Lamb and Rice
ProPlan
ProPlan Senior Beef and Rice Entree
If you are feeding your pet one of these products – please pay close attention to your pet's health. Should any illness occur, notify your veterinarian first, the FDA second. You can report a pet illness to the FDA here: https://www.fda.gov/AnimalVeterinary/SafetyHealth/ReportaProblem/ucm182403.htm
Wishing you and your pet(s) the best,
Susan Thixton
Pet Food Safety Advocate
Author Buyer Beware, Co-Author Dinner PAWsible
TruthaboutPetFood.com
Association for Truth in Pet Food
What's in Your Pet's Food?
Is your dog or cat eating risk ingredients? Chinese imports? Petsumer Report tells the 'rest of the story' on over 2500 cat foods, dog foods, and pet treats. 30 Day Satisfaction Guarantee. www.PetsumerReport.com
My daughter's 4 year old indoor cat died from liver failure recently. He ate strictly Purina Indoor Cat Chow as well as Purina's canned foods. I would like to know if there are any class actions suits against Purina because of all of the cat and dog deaths recently?
Oh well FINALLY!! I think the FDA needs to check out the other plants-
This validates what I was shouting about that flies are hatching from the canned food within minutes after opening.
Had the food been processed at the temperatures needed the fly larvae would have been killed and it wasn't. Also had this in Authority Kitten food.
This brings up so many questions. If the food is not heated up enough to kill bacteria- how about parasites and Protozoa? Since we know that all animals carry the parasite for Toxoplasmosis – and we know all animals are tossed into the pot at the rendering plants and pet food mfg. are these companies spreading -T-Gondi either in parasite form or Oocysts form?????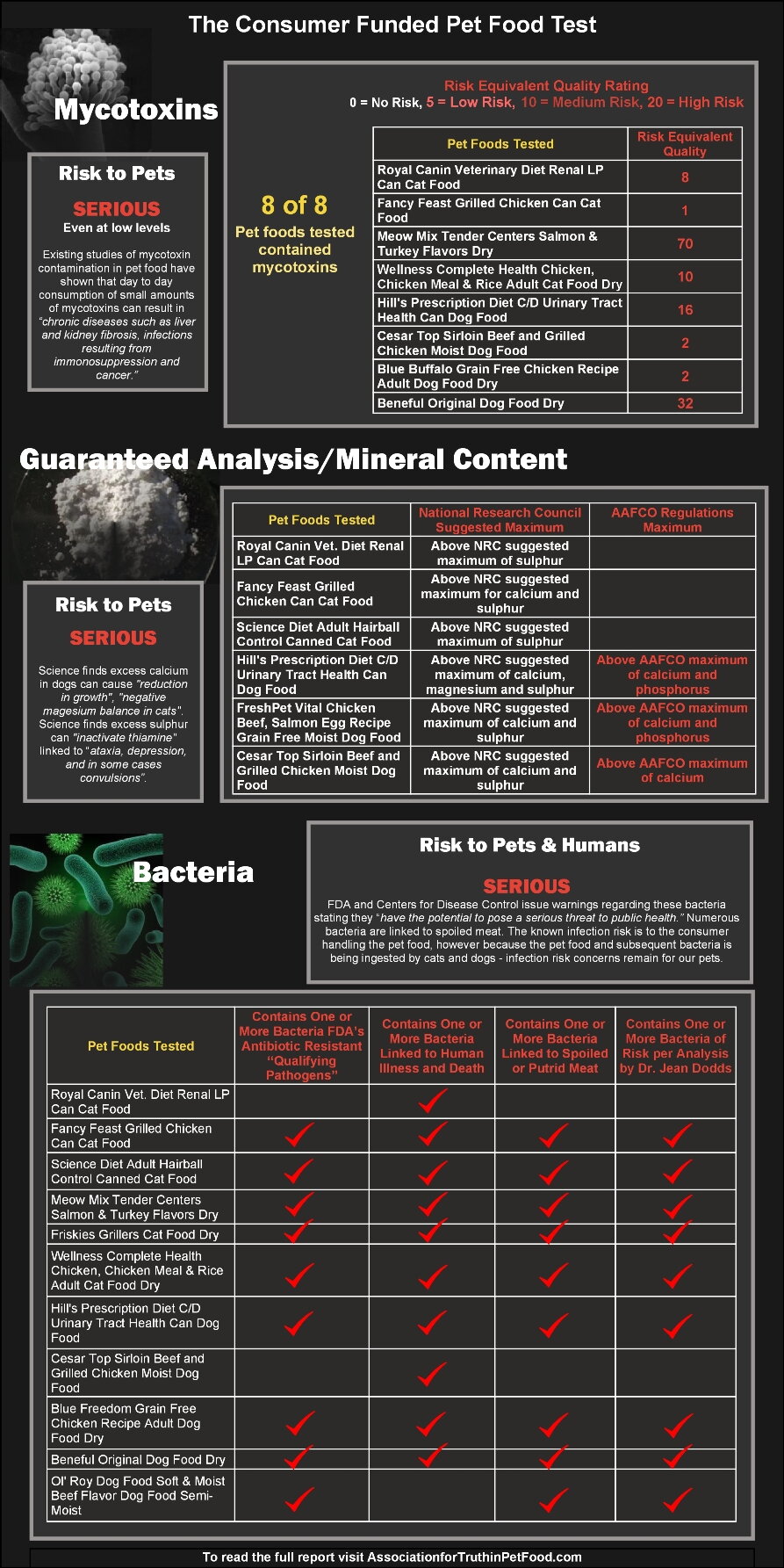 Newest results of safety tests on random pet foods: 4 previously thought of as safe, previously well-regarded name brands. 2 were 'low end' pet foods. Everyone was shocked to see the big names like Royal Canin, Blue and Wellness. We expected the low ends, Purina and Pedigree, to be poor but were shocked to see just how truly bad these were with toxins, molds, plastics, yuk!
We're sticking with Life's Abundance - its never been on any recall and they have their own machines, they slow bake and do not cook with high heat. They don't rent out their machines either. The only ingredients in Life's Abundance are chicken, fish, vitamins, vegetables and probiotics. Thats it!! Only healthy ingredients sourced locally.

Natura Pet Widens Recall of California Natural, Innova, Evo, and Healthwise dog foods. by Mike Sagman, a 2nd time June 18th and April 19, 2013.
Natura Pet Products has announced it is voluntarily expanding the March 29, 2013 recall of dry pet foods because they may be contaminated with Salmonella. The expanded recall now includes all dry pet food products and treats with expiration dates prior to and including March 24, 2014.
This includes Innova cat treats and all Wild Cravings cat treats. No other Natura Pet canned wet food, biscuits, bars or treats are included.
You can report complaints about FDA-regulated pet food products by calling
the consumer complaint coordinator in your area or local TV station. Or go to their website to file at https://www.fda.gov/petfoodcomplaints.
******************************
PURINA BENEFUL DOG FOOD SAID TO BE KILLING DOGS. NO RECALL POSTED YET. By Dr. Robert J Russell, PhD
January 13, 2013. See the reports online.
THIS IS NOT THE FIRST TIME PURINA BENEFUL HAS BEEN IMPLICATED IN THE PET POISONINGS AND DEATHS.
SEE: https://www.snopes.com/critters/crusader/beneful.asp
PURINA ALSO PRODUCES JERKY DOG TREATS THAT CONTINUE TO BE CURRENTLY LINKED TO MANY DOG DEATHS.
SEE: https://www.consumeraffairs.com/pets/beneful.html, https://petfoodtalk.com/dogfoodreviews/beneful/
https://www.lifewithbeagle.com/2012/09/six-signs-of-food-poisoning-in-pets-and.html
**************************
MORE NASTY INFO: November 22nd, 2012. Petsit USA reports that Science Diet has just acquired a patent for its process of adding plastic to pet food, a deadly, unnatural ingredient which increases the corporation's profit at the expense of pets (https://www.petsitusa.com/blog/?p=5351):
Science Diet Acquires Patent to Use Polyethylene
by RYAN on OCTOBER 5, 2012 in PET HEALTH
Science Diet has recently acquired a patent to use polyethylene in their products. The purpose is to extend the shelf life of their products. Polyethylene is a common plastic that is widely used to create plastic bottles, plastic bags, plastic films, and many more products. Using this plastic in food could be dangerous for you and your pets. Many people are not aware of the potential side effects. It is possible that polyethylene products can cause cancer. PetsitUSA will keep you updated with news on these products, but you may want to consider avoiding these products, especially reusing plastic bottles.
Update: You can find more information on the low-density polyethylene at https://www.medicinenet.com/plastic/page4.html
Dr. Russell continues: Basically, there is no way polyethylene should be ingested and it is even questionable whether or not this product should be used to contain food for any length of time (because most plastics can leach into foods and be ingested accidentally).
Low-density polyethylene (LDPE) is a polymer of ethylene (a familiar component of anti-freeze) distilled from alcohol or petroleum. It has not been a human "food ingredient," but has been a base of chewing gum and has been added (as ground-up plastic containers) by farmers to cattle feed, replacing healthy roughage. Extending shelf life is a no brainer since this is plastic, not food. They could get the same result by grinding up old car tires -- and if they could get away with it, they would! Oral doses of LDPE have resulted in cancer, as well as liver and kidney damage.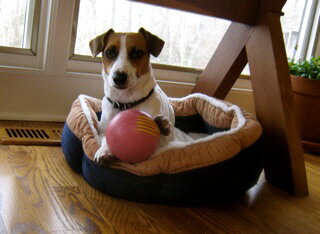 Handsome Tommy lives with Kitty in NC and the grandkids tire him out!!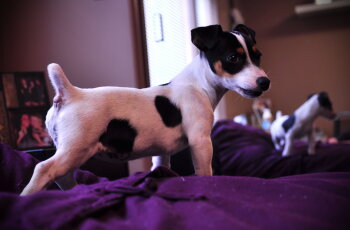 Peanut from Salt Lake City says, I found an intruder in the mirror - she looks like me!!!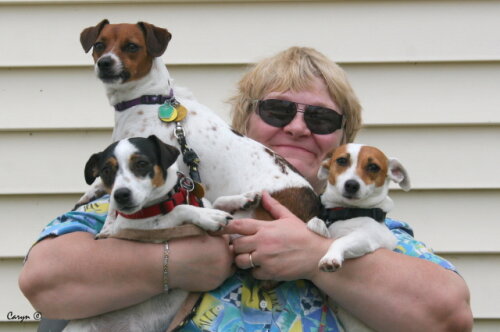 Peanut, right, retired to be with Linda in Wisconsin with Peanut's daughter Ms. Kitty, black tri, and Kiera, a Clare daughter, top.
Photo courtesy of Caryn Henry.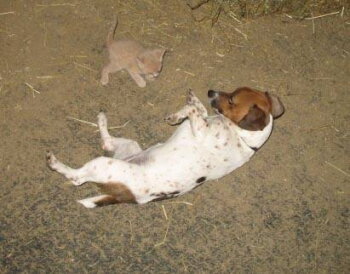 This is how fierce our Russell Terriers are: Kiera is bellying up to a baby kitten......."Please don't eat me, I'm a nice puppy."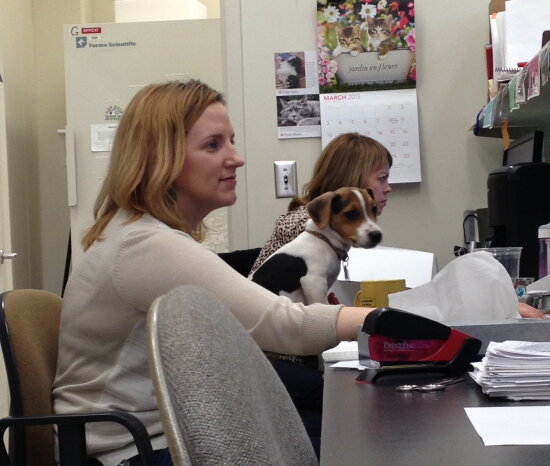 Scramble learning dog genetics at the Univ. of Minnesota College of Veterinary Medicine.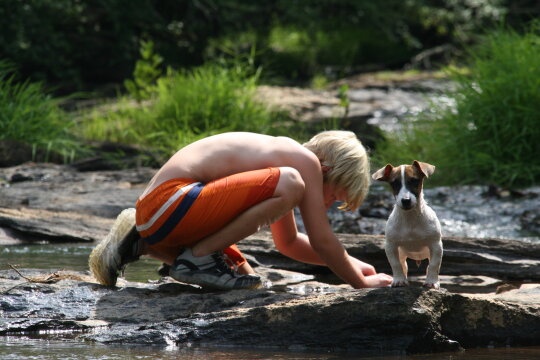 Chris and Rocky exploring a creek 2008.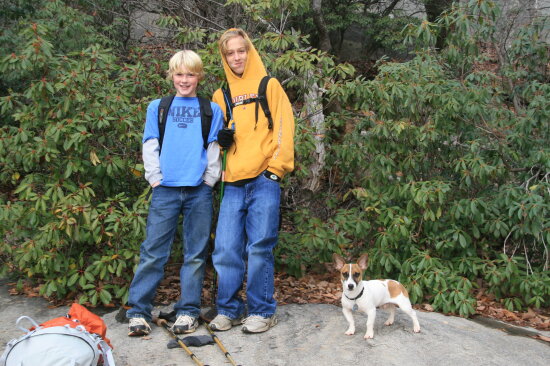 Rocky and his 'Best Buddies' going camping in SC, May 2012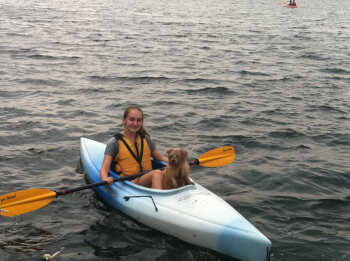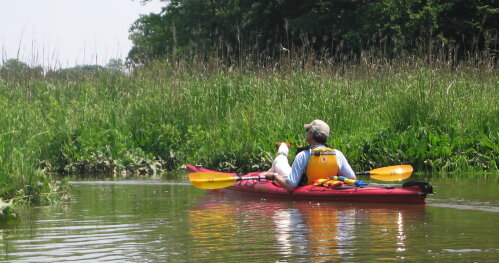 Casey and Fred kayaking at Morgan Creek.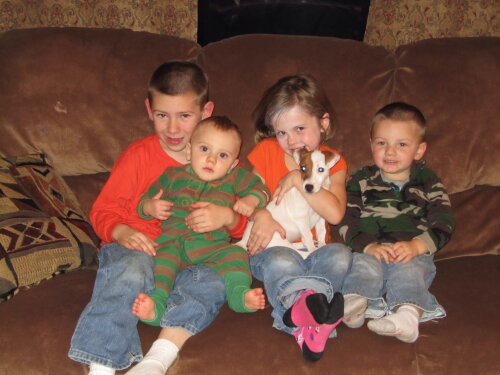 Loki in Michigan with his four children to watch over, 2011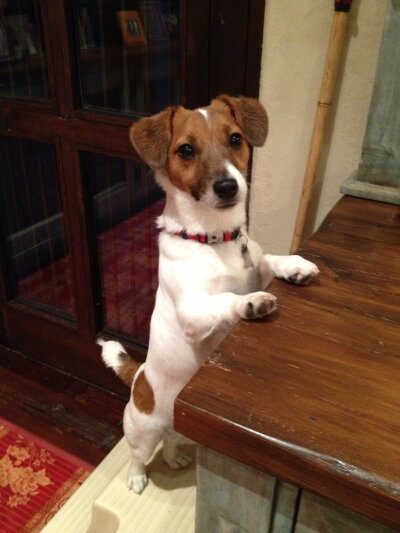 Paddy says Where's the bartender when you need one?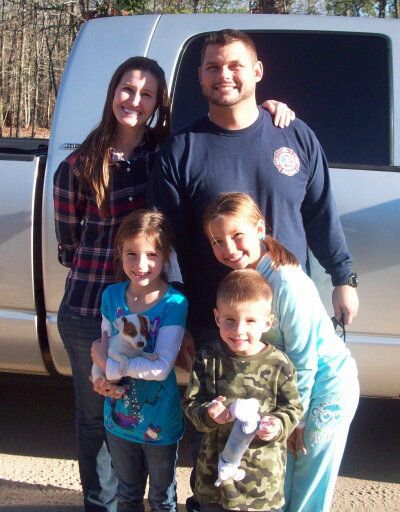 Kyna going home with her family to Florida, Christmas 2011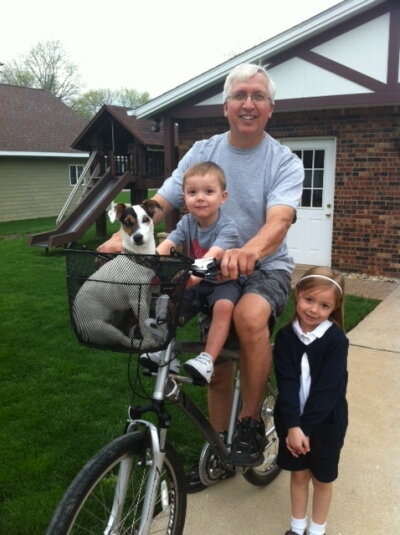 Ailey and her family bike riding in Illinois.
A few new photos of nap time - some knew of the photo, and some were hilariously surprised!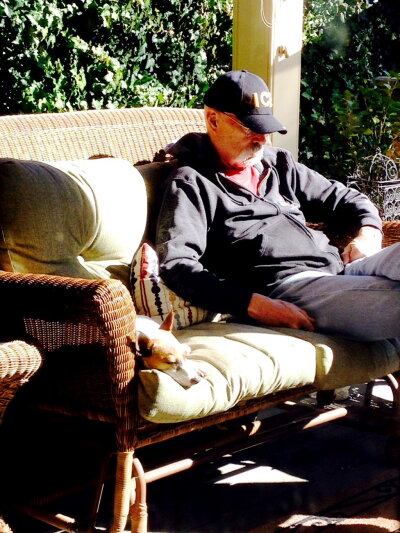 Maxwell and Dad napping on the porch.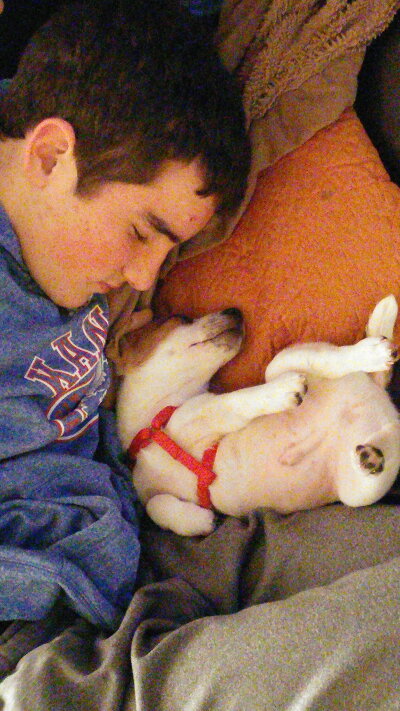 Love these 'Taking a Nap' photos, shows how much they are all loved.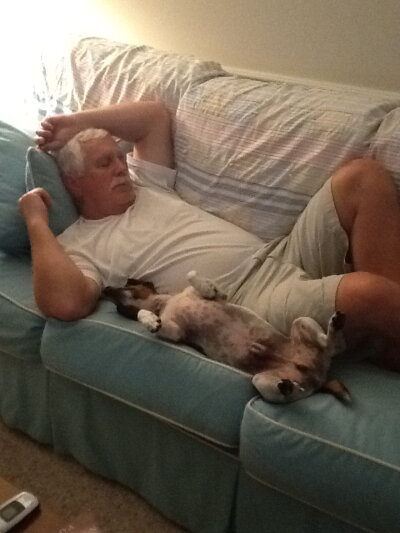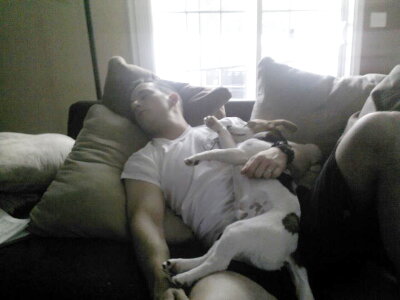 Jett and Daddy caught napping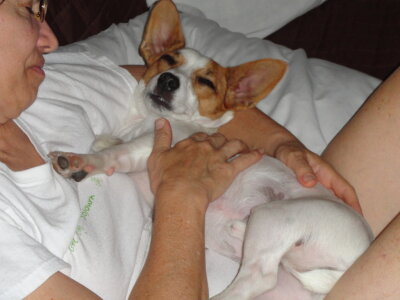 Finn napping with his Momma, who doesn't know Daddy took this photo and sent it to me, Gramma!!!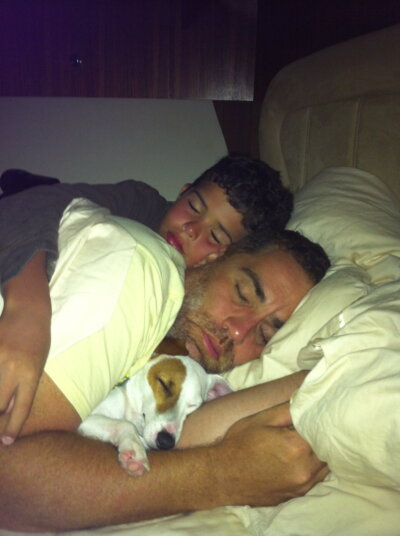 Three Musketeers taking a nap on the boat.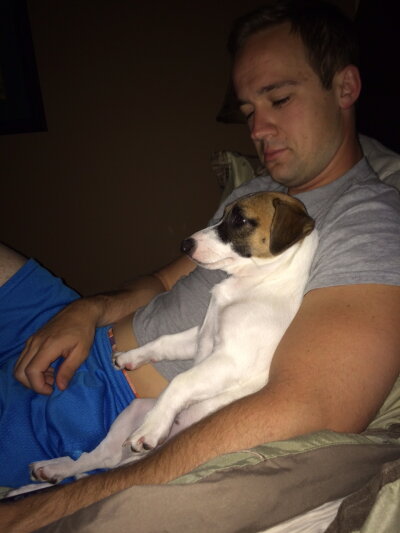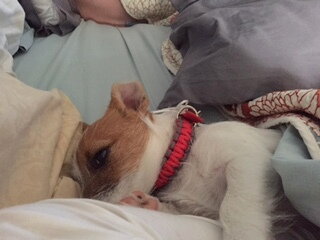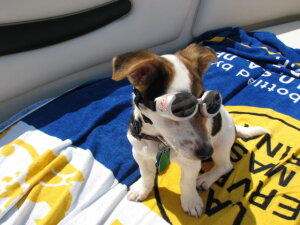 Crash Prevatt in Alabama on boating day.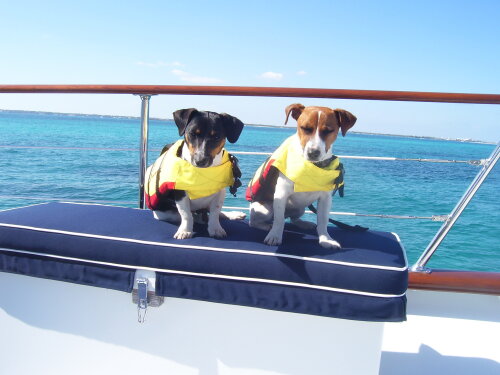 Dugan and Dylan with their life jackets yachting Summer 2010.
Do you think our Russells like water, just a little bit!!!
| | | | |
| --- | --- | --- | --- |
| | Boots at Shaw AFB with Bryan and the boys. | | BJ and Declan looking innocent! |
Schroeder is the Team Mascot for the Rollins University Women's and Men's Swim Teams.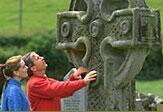 ..."From Birth to Obedience...
We provide the family environment necessary for proper puppy socialization."
The people you can trust to raise your special puppy specifically
for your family. We show the attention to detail and care, you didn't think you'd find anywhere - so we can protect what's important together.
Consider adopting one of our terriers and we can work together forever!

If you have any questions about Jack Russells, or your new puppy, send us an email or give us a call. We love receiving pictures to see how the puppies are adjusting to their new households and watching them grow.
How to Contact Us:
Donna, Michael and Sean Fitzpatrick
Aiken, South Carolina 29803
803-648-3137
Donna served in education for 28 years as a teacher, counselor, psychologist and school administrator. Michael has been in construction for 32 years and in the transportation industry for over 15 years. Sean worked in several vet clinics in the Carolinas and ran his own business of horse show operations. He is now enlisted in the Navy as a Seabees as construction electrician. We are extremely proud of our son's decision to serve in the military. His Dad was a Marine, both Grandfathers were in WWII, one as a Navy Seabee and one in the Army. Sean's cousins are serving in the Navy and also in the Army. We love living in Aiken, S.C.
Since 1974, Trinity Farms has been raising
premium quality puppies with passion, love and care.
Our commitment to quality is absolute;
and we put our lifetime guarantee in writing.
We are research based in our studies and our program reflects this dedication to the specific bloodlines of our Irish Jack Russell Terriers.
Donna has a B.S., M.Ed., MBA Psychology and behavior.
© 2002-2020 All content & photos are copyrighted and not to be reproduced without the expressed permission of Trinity Farms Kennel.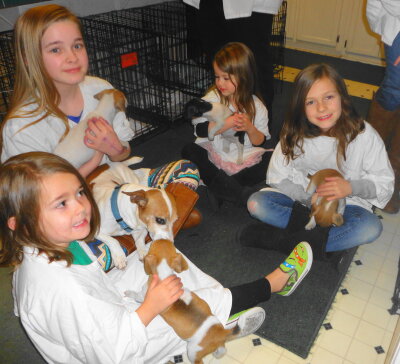 Our Mission statement is to be True to our Origins and
we are Driven by our Destiny.
Our philosophy is rooted in the premise that many of us share an undeniable love and attraction to the character and historical significance of the Irish Russell Terrier. It is because of our commitment to the preservation of these canines that we share this love for them - the desire to care for them - and the need to experience and become a part of their living history.
It is our goal to strive for excellence and to produce the highest quality puppies in the world.
Quality is never an accident. Quality is the result of years of research, high intention, sincere effort, intelligent direction, skillful execution and represents the wise choices of many alternatives.
These special creatures possess the cherished bloodlines of many great legends and they pass on the gentleness, athleticism, intelligence, substance, and beauty.
Our breeding program is carefully focused to instill, first and foremost, a gentle temperament and a willing, affectionate personality. However, we are also very proud of the sound health and hardiness, athletic talent, and classic beauty also evidenced in their offspring.
We strive to provide outstanding services to our families, offering an extraordinary level of personal attention, responsiveness and education that will create an inter-dependent relationship of extended family between us.
We have selected only the most superior quality foundation stock from Irish lines that have a long history of reproducing generations of proven, excellent dispositions and sweeter personalities.
We are excited to share with you our profound love for this breed. These are not only natural athletes, but born and bred to have an affection for people that is unparalleled. There is no greater love story than that between a dog and its owner. Let us be a part of creating for you, your special next, new family member.
We are forever indebted to the Irish breeders before us who have been our mentors and advisors in our life's journey to seek out and produce only the highest quality, genetically free of inherited deficiencies, and most reliable and dependable dispositions in Irish Jack Russell Terriers. We have spent many years with breeders and we research the very best Irish lines. The Irish Jack Russell Terriers we breed are direct descendents from protected and pure lines that trace back to the late 1860's. We have twelve unrelated Irish lines from these preserved and protected stock.


We are dedicated to preserving and protecting these bloodlines which are founded on very old established and proven lines from Ireland. These particular bloodlines produce superior quality dogs known for their calmer, more sensible and trainable dispositions. They are also known to be incredibly healthy and hardy.
These lines carry few genetic faults, actually only one reported that we know of in the last 50 years or so. These are some of the reasons the breeders before us are so committed to keeping these lines pure and protected from outside influences.
They are a true testament to the breed and are to be protected and preserved for our children and grandchildren to enjoy.

ACCOMPLISHED HANDS ARE EFFECTIVE HANDS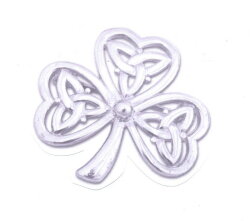 We place the Latin phrase,
'facta non verba', which is 'action not words',
at the core of our customer service.
____________________________________________________________________________________________________
Pairing one of our dogs with a new family is the most important step in acquiring a Trinity puppy or dog, and one we take very seriously.
It's a journey that begins with a full conversation of your daily routine and family lifestyles, and ends with you bringing into your home and life a loyal and loving companion and devoted family dog.
That's why it's critical the puppy you choose is the correct one. The one that matches your family in personality and disposition. The confidence we have in our dogs and our experience allows us to guarantee that the dog we have placed with you will be the right match.
From day one and throughout the life of your dog, ensuring your peace of mind is our ultimate mission.

Welcome
I'm Donna Fitzpatrick and I'd like to thank you for visiting our website. On this page you'll find all of the information on our years of experience, credentials on educating families about puppies and dogs and how to find your next new family member. I'd like to take just a few minutes to tell you a bit about me personally. I think you deserve to know the people behind the credentials so you can make a good decision.
There are several things you take into account when you choose your breeder. Of course, look at experience, credentials and convenience of access. But at the end of the day it should boil down to one critical factor......choosing your puppy's breeder and origin may be one of the most important decisions you'll ever make. We've taken great care in creating this website to give you as much information as we can to aid you in your decision. I really hope you'll take the time to click on our links and do your research and if you have any questions at all, I hope you'll call us. But in the meantime, here's a piece of advice from me to you:
I've spent my entire career making absolutely sure that our families can talk openly with us. I've invested years and thousands of hours in comprehensive research to make sure that we excel at communicating the newest information - with each other as a team and with our puppy families. That means a better healthier puppy and happier outcomes for you.
Nothing makes us happier than when my puppy families look into the eyes of their puppy baby and then look at me with tears in their eyes because, they are so very happy with their new baby. I cherish those moments and have been honored and privileged to share hundreds of them with my puppy families in these past 45+ years.
I'm a people-person and I love laughing with my puppy families. But first things first: If we work together, I will encourage you to talk with me so we can make sure we fully understand your children and your family's unique needs and concerns. It all begins with talking.
"I am an active listener. I think its very important that families know you are truly interested and listening to what they have to say and that what they say is important."
It is my profound hope that no matter who you choose for your puppy's breeder, you will find someone you can talk with openly. I'd welcome the opportunity to talk with you so we can discover if we're the right source to be your breeder. If you feel comfortable and safe, then we will form a partnership and work together to assure that every step you make is the best choice for you, your family and your happiness.
Have fun browsing through our website, watch the videos and when you're ready, I will look forward to meeting you and learning how I might help you find the next love of your life.
Respectfully yours, Donna Fitzpatrick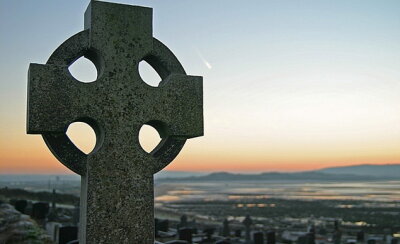 Welcome to our Trinity Farms Terriers home page and thank you for considering us for your personal family companion. Throughout this website you'll become more familiar with the multi-faceted Irish Russell Terrier which will undoubtedly prove to be your best choice for your next family member companion and protector.
You can participate in protecting and preserving these natural treasures.
When your family becomes part of our extended Trinity Farm Family in helping care for these remarkable canines.
Please browse and learn more about us and our family commitment to preserving these special Old World bloodlines.
Where your peace of mind is our Priority and your family's safety, love and health is a goal that is attainable and within reach.
We are a small family honoring the tradition of raising happy, healthy and dependable family companions. We are still operating today and continuing the work of generations of our family's traditions in hand-raising puppies and dogs for your family.
Our 80 years of experience will benefit your family and your children's lives with the knowledge and practices we will provide for you in how best to care for your new family companion and loyal friend. They are naturally protective of their family and deeply loyal to their people.
Our family founders have long recognized the necessity for integrity, quality, reliability and efficiency in blending a new puppy or dog into the family as a companion and protector. My Father raised Dobermans, Labs, Springer Spaniels and he passed down to us what he had learned from his father.
We continue to pass down and transfer this knowledge and blend it with the newest research that effects how we all learn and improve on what we do and how we do things. We continue to learn new methods and blend them with old and new research and explain it to our families.
The end result of which is that our family remains true to a mission of service and excellence.
We are dedicated to bringing the true essence of the Irish Russell Terrier of pure Celtic origins for your family to discover and enjoy.

Love is a gift you give yourself and
share with your family.
Let Your Passion Lead you here.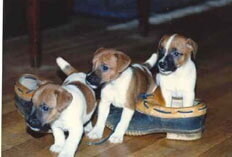 We also work closely with four veterinarians, here in Aiken, S.C. With their help and advice we have developed deeper foundation lines of superb, short-legged specimens of the Jack Russell Terrier.

We want a Russell Terrier who is equally at home playing in the backyard with the little kids, racing over agility jumps, go-to-ground, as he is asleep in your lap watching TV at night. We have invested decades of time in researching pedigrees, personalities, phenotype, genotype, and individual dog's family trees. We strive to create and have continued the design of a better bloodline for an all-around family friend and protector, a working dog who can hunt, do agility and play with the kids.
We want to have family friendly, dependable and livable Russell Terriers. We use a holistic, alternative and conventional vets, Dr. Charles Timmerman, Dr. Charles Groover, Dr. Matt Barber and Dr. Kim Smart for alternative and all natural products and services. Their Aiken Vet Clinic here in Aiken have called our Jacks, 'laid back jacks.' You are welcome to call them for a reference 803-648-6886. And others have called them 'Easy Jacks.' The name has stuck and we consider it a wonderful compliment.
Our Jacks are sweet and loyal companions, trusted friends, and more importantly, part of the family. We spend a great deal of time with our puppies. They are all born in our bedroom, raised underfoot in the kitchen, socialized with adults and children, teenagers, telephones and vacuums. They even spend time visiting schools. Our puppies have been in classes from kindergarten to HS Biology. Once you have a Russell in your life you're hooked on the laughter and happiness they create in your home. They are clowns in dog suits!! That's what we enjoy. Laughter is the best medicine and keeps you healthy!
We are dedicated to making your decision to bring a Jack Russell Terrier into your home a happy experience that your whole family can enjoy for a very long time. For your entire life, yours as well as your puppy's, we are here as a resource and support for your family forever. We will gladly guarantee that any puppy you purchase from us will be in good health. We have a lifetime guarantee on health, genetics, temperament and compatibility on all our puppies and dogs. Our pups are usually seen by the vet the day they are born, again 3 to 4 days later, and will have visited the vet once if not twice, for their first set of shots, worming and flea treatment before they leave our home for yours. Please visit our health and guarantee page, our guarantee is one of the best in the nation.
Our commitment does not end with the sale, it begins..........
We will be here not just for the lifetime of your puppy or dog, but we become lifelong friends as well.

We here at Trinity Farms aspire to be the most trusted and respected JRT breeder in the eyes of our Trinity Farm families, customers and competitors.
We are committed to your puppy's health and beginning socialization.
Our family takes pride in raising premier quality dogs for family pets. We strive for excellence and aspire to be the best Irish JRT breeder.
Raising these special Irish JR Terriers is a priviledge and our greatest responsibility.

Welcome to Trinity Farms and our home, a video introduction taken by one of our puppy families, the Donovan family. You can see their website at www.portraitfusion.com
https://www.youtube.com/watch?v=OwxPda9KPXY
| | | | |
| --- | --- | --- | --- |
| | The new magazine Flower, has an article on Ryan Gainey, a world renowned gardener. He has one of our Lilly Mae x Beau's girls, Popcorn. | | Here's Popcorn helping to pick up a flower that Ryan dropped, and the photographer caught the shot. Isn't she just beautiful!! |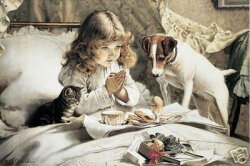 Our site is intended to help educate people about the Jack Russell Terrier breeds. There are many differences in the JRT's out there. There are Shortys, typically the original English and Irish lines. Then there are square JRT's, then there are Parson Jack Russell Terriers who are 12" - 15" tall who are more avid hunters and bred to be fancy in the show ring. It is the interbreeding with American lines that carry the hyper and aggressiveness which we do not believe make the best companions for children. Many other JRT people belong to the JRTCA which strives to keep the working and strong hunting drive alive. It is up to individuals to research and decide which type of JRT is right for you and your family.
We are members of the EJRTCA, UKC, and the RTFC. The AKC has just recognized in January 2006, the Shorty JRT as a separate breed that is distinctly different than the Parsons Jack Russells. Our broodstock have been approved and accepted in as Foundation Stock, which is an honor and a tribute to the Irish lines and the superb bloodlines and protected pedigree historys.
We raise the Shorty Jack Russell Terrier, who are more suited to be family dogs but who are also wonderful examples for the show ring for the smaller JRT. Some of them love to chase the tennis ball and there are others you'll have to teach how to hunt since their prey drive is not as strong. They are great at whatever you want them to do. They are especially and historically good with children.
The Irish and English Shortys are all under 12" tall. Most of our dogs are in the 10 - 11" range. Our dogs were originally bred to be Irish Gentleman's dogs and to be with the family, in the house and on the farm. They are living testimony to the quality, family dogs raised over 150 years ago. We strive to continue the tradition and keep the legacy of these dogs alive so our children's children will be able to enjoy them as much as we have.
Enjoy visiting our site, there are over 65 pages of information on JRT's and puppy/dog health, training tips and over 150 pictures of our special Irish Russell Terriers. We also have educational health articles about dogs and our health, and some wonderful photos of life with animals and how they enhance our lives. We have a Secrets of Life photo series, and a Military Salute page. See the Site Map on the opening page for the locations of the different pages. Please enjoy your visit. We invite you to call us with any questions you may have.

Please know that we donate a portion of your adoption/sale of our babies to
the Wounded Warrior Project and we donate monthly to the USO.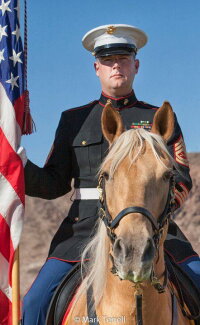 We salute our servicemen and women, we are so grateful for their dedication to our country.
Army, Air Force, Marines, Navy, Coast Guard. We thank you all from the bottom of our hearts. Please see our Military Salute page.
Thank you to Mark Terrell for allowing us to post his photograph.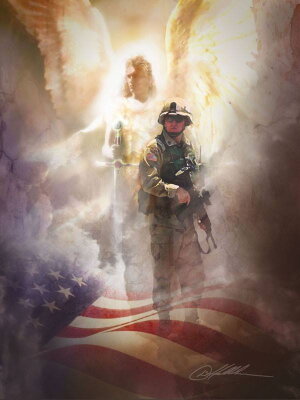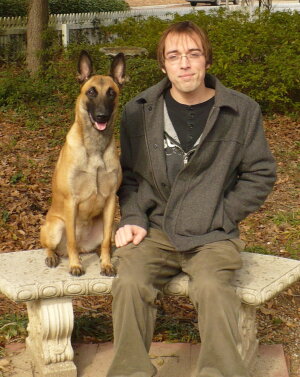 We would like to introduce our professional canine trainer,
Mr. Robert Holappa and his Belgian Malinois, Reece.
Robert has trained under the best professional canine trainers in the United States, and graduated with honors first in all classes. Rob previously attended Aiken Prep, has military experience and is extremely skilled and patient with his puppy training classes. We are fortunate to have his talents available to our families if you would like to have some training done here before your pup comes home to you. He is available to travel to your home state or country to deliver your pup to you at buyers expense for the gas or flights. He will make the transition a smooth experience for you to be able to learn the words, motions and voice inflections in order to continue the training he has instilled. We do the basic puppy commands of come, sit, etc. and lay the ground work of beginning habits of potty training and early play biting inhibition. We teach the puppy how to listen as a start for puppy kindergarten. Rob is able to potty train your pup and to attain more than just the basics but tailored to your family's needs. His prices are very reasonable and he is willing to talk to any prospective families. You can reach him at 803-270-5906.
Protecting your Home, Family and Peace of mind.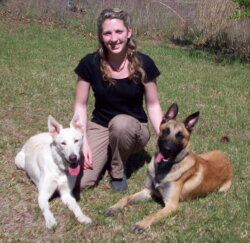 If you are based in the New England area, Lauren Gosciminski was also trained at the same time as Rob. Her skills also include working with other Mass., NH, and SC trainers. She is working in the Manchester, Derry, NH area and bordering Mass. towns. Please contact me for her phone and email. Thank you, Lauren!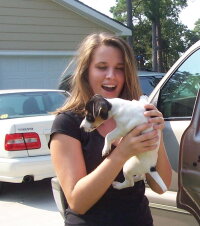 Birthday surprise was a big hit for this Beaufort, SC teen.

Irish Blessing

May you always have
Walls for the wind,
A roof for the rain,
Tea beside the fire,
Laughter to cheer you.
Those you love near you.
And all your heart might desire.

We occasionally have pups who are available as we have families move their reservations to later in the season for various life situation reasons, ie. new jobs, moving, family, happy events like weddings to plan and new babies. We work with our families as we want the best time and best circumstances for our babies going to their new homes.
We do have young adults who we are looking to place when retired. Please see the puppies page.
If you haven't received an email response from me within 24 - 48 hours please call me. We so enjoy talking with everyone and please continue to telephone me to inquire about our extra babies that were a nice surprise.

803-648-3137

I do ask you to please phone me with your questions and for information about our puppies who are available now and those who are due this season.

Visiting protocols:
Please know that since baby puppies do not have a complete immune system until after they have had their third set of shots, we must be extremely careful to protect them from illness and tightly control their environment. This includes cleaning everything, all the time. Most germs and bacteria will enter your home on your shoes or on your hands.
So please know that when you come to visit you will be asked to help us as we try to protect our little ones and our adults.
The first thing we will ask you to do is to step onto a bio-security mat which holds a disinfecting solution to clean all shoes. Then you'll step on a rug to dry your shoes.
Then the second thing we will do, is ask you to wear a lab coat or smock over your clothes. Thirdly, we will wash our hands before we touch any puppies or mommas. Then you will be able to play with our older puppies and the adults. In addition, when we switch playing with one litter and go to another litter, we must wash our hands again, in between litters.
If the babies are still young, newborns and are not four weeks old yet, we must ask you to look at them - but please do not touch them as much as you'd love to, looking will have to do until they are older. I know this is hard to do and we thank you in advance for being as careful with the babies as we are.
When we go outside to the backyard to see the adults, and when we come back in, we will again step onto another bio-security mat to clean our shoes again. If you happen to wear open toe shoes or sandals we do have the blue hospital booties which we will ask you to put on over your shoes.
We thank you for your understanding and cooperation with these procedures. It's to protect our little ones and to stop any germs or bacteria in their tracks...literally and figuratively!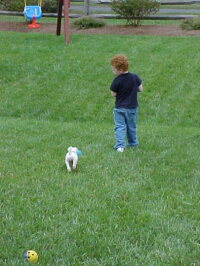 A boy and his dog.....
it does your heart good to see such happiness.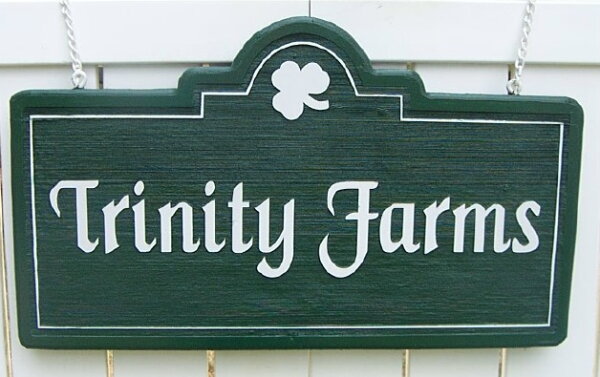 Welcome to our home, "Cead Mile Failte."
A hundred, thousand welcomes.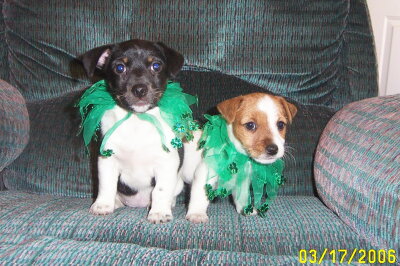 We do occasionally dress up for holidays, the dogs actually do
like costumes and tea parties! This is Vaquero who went to Texas
and T.C. (for Too Cute!!) who went to Georgia.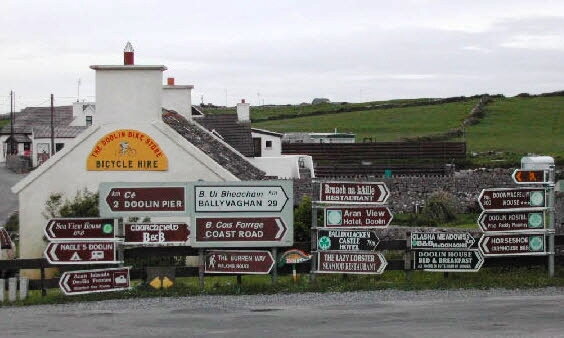 Fitzpatrick's Corner in the town of Doolin, County Clare, Ireland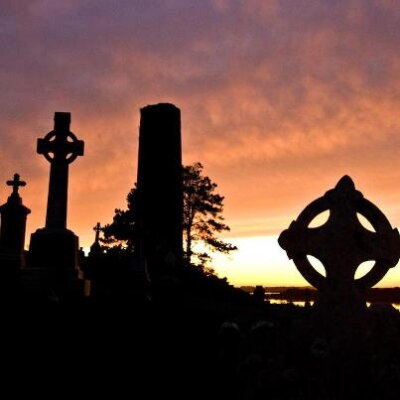 Clonmacnoise Cemetary at sunset, a classic Celtic Cross.

These Irish bloodlines are well known for having extremely calm dispositions and have become known not just nationally here in the states, but internationally now as well. They have become highly coveted and there are not as many available now as there were in years past. Because of this, these exclusive lines are being nurtured to protect and propogate these very special bloodlines.


Trinity Farms is pleased to have several national and world champion lines to our family.

Katie, imported from Ireland's Irish Kennel Club Best of Breed 2004 National winner's family, in our Miss Katie.

Miss Teresa of Avalon from the world renowned Myrmidon Champion lines from Australia, by way of South Africa and Arkansas.
Teresa's grand-daughter is Gorgeous, and her father is Guinness, the 'other' Best of Breed National winner's family from the Irish Kennel Club.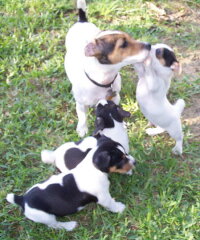 For more information on why we call our puppies "Noni puppies", and to learn about the discovery of ancient health secrets, please see the Health and Guarantee page where I talk about noni in more detail.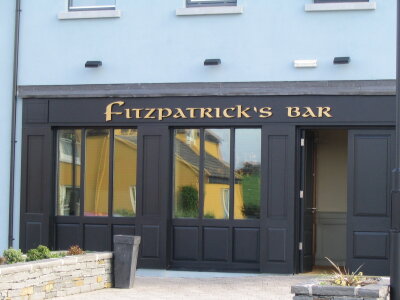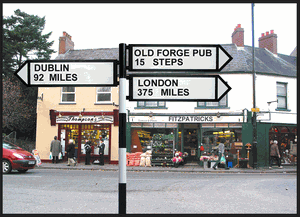 A Fitzpatrick shop in Ireland, behind the road sign.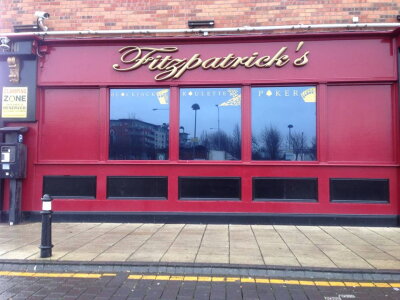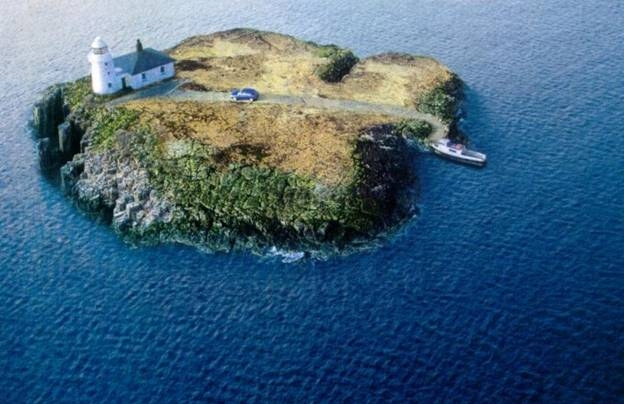 Actual ad for car sale in Ireland, "For sale, low miles mostly in reverse......"

Please may I ask for your extended patience in responding to your phone calls and emails. I try to answer emails by the next day and I have tried to do that with phone calls as well. I need to let you know that we have many inquiries and many questionnaires being sent every week. So I ask for your patience. If for some reason you have not heard back from me in 1 or 2 days please call or email me again, thank you.

I go through the questions and I do read absolutely everything. The delay in my getting back to you is that we have a lot going on in our lives right now and it's taking me longer than I would like to respond to your inquiries. I am saying thank you to you all for being so patient, and I do say please be persistent. If you are very serious now, please call me again or email me again. Perseverance is a virtue.

Please, please call me on the phone to inquire.
Thank you all. Donna, Michael and Sean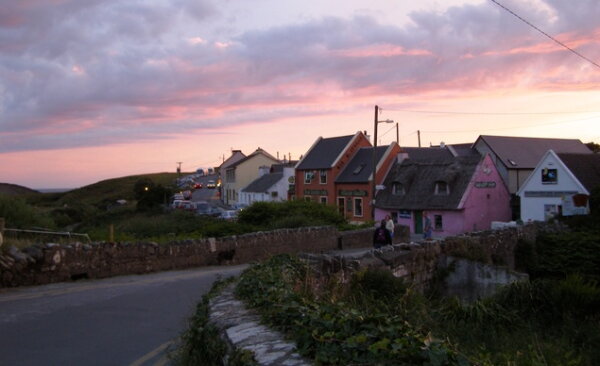 Another photo of Doolin Village in County Clare where both our families
originated from generations ago. Our family DNA traces to County Clare in the 11th Century.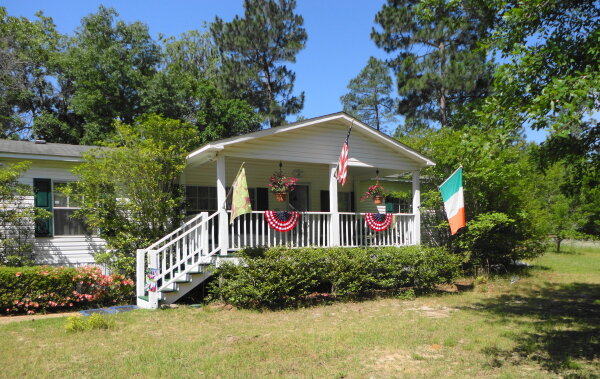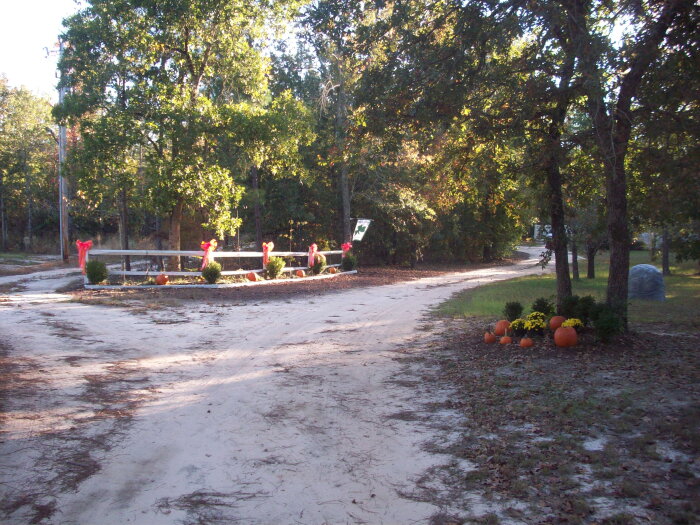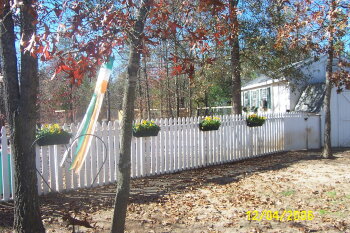 This is the backyard fence, we've planted pansies for the winter holidays in the flower boxes. And yes, for all northerners, it still is nice here all winter. We're putting Christmas lights on the front camellia bushes and it seems funny to be putting lights on the bushes which are in full glorious bloom.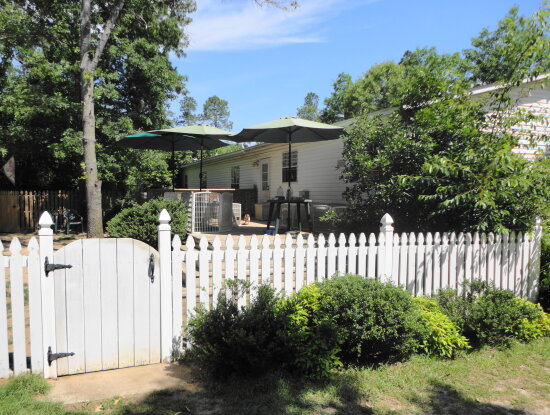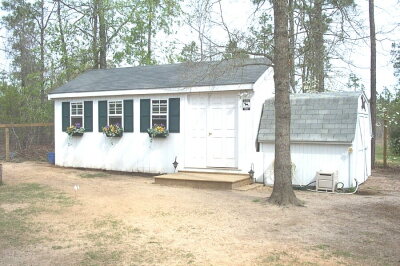 The barn/kennel building picture taken Feb. '05.
Our barn/kennel building:
The design is to keep our adult dogs comfortable, safe and secure; and warm in the winter and cool in the summer. It is built out of wood for many redeeming qualities over a metal building. It is more aesthetically pleasing as well as more efficient to heat and cool and has a comfortable barn atmosphere feeling. We have floodlights for the barn area and the entire fenced backyard, as well as a security system with motion detectors and several automatic early warning systems.

The floors are marine plywood and pressure treated boards. We re-designed the inside and built small-scaled horse stalls, but for dogs! Each stall holds two dogs and the end stalls are large enough for three dogs each. The dogs are bedded down in shavings 6 - 8" deep. They love it, roll in it and curl right up to go to sleep. This makes the individual stalls easy to clean and pick - just like the design for mucking stalls for horses. It works very well, is easy on the dogs, and easy to navigate inside. We hang food and water in stainless steel flat-backed pails with hooks from the wall. This helps in preventing spillage on the floor and from being tipped over. In cleaning the floors, we use the same health procedures as a veterinary clinic, but with pressure treated floors vs. concrete. The same Parvo-Lan disinfectant works well on wood floors also.

The barn/kennel building is 12 x 24, is insulated, heated and cooled. We use radiant heat for the building. And we use 6 fans and two air conditioners on their own electrical circuit. Both gable ends of the roof have larger sized venting systems. We have also installed a fly and mosquito automatic sprayer system and an automatic deodorizer system. The water system we use are individual automatic self-waterers in addition to the pails. That allows us to monitor each dog's water intake daily. It is an early warning system to any potential illness, females coming into season, etc. or just to see if an individual is feeling slightly off. We also play music to help keep them company when they are inside. Last year we added an overhead misting system so it will cool the temperature down a good 20 degrees at least on the hot summer days. Its amazing how cool and hydrated the air is now inside.

All of our dogs are loved and hugged and rubbed each day by all of us, exercised several times a day in the large fenced grassy area with trees and they love to run and play. They are also up on our back deck, play around the porch and have neat places to explore and play hide and seek. We wanted a more family atmosphere instead of a formal kennel feeling. We do have outside kennel runs that are 10 x 10 x 6 chain link pens but are not attached to the barn. They are in a separate area with grass, shade and another larger individual free play time as well.

The dogs in the house are: any females who are pregnant, all the young puppies who are future stock, and any pups that are less than 6 months old. In addition every dog is on a rotation for a turn in the house to sleep with us and share our daily lives. And of course we have a separate room that has been designed as a maternity room for new litters. Once the babies are about 4 weeks old the mom and babies are moved into the kitchen-family-great room area to be involved in the daily routines and noises that go along with that. Socialization begins early, from the first day of birth, and each day and week after that.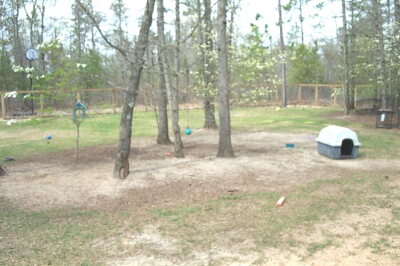 Our backyard playyard for the puppies. Our home property and farm facility are designed with integrated systems with detection, deterrence, defensive and offensive options. We are a secure property that we protect our babies on all fronts.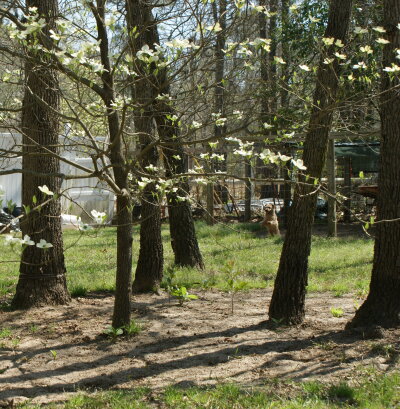 Jack Russell Terriers, English Jack Russell Terriers, Russell Terriers, Irish Jack Russell Terriers, Irish Russell Terriers - they are known by several names. And there are several JR breed types, the Parson JRT is a 12-16" tall hunting dog with a ton of prey drive. The Shorty JRT was recognized as a very different and distinct breed away from the Parson JRT. Some American Shorty JRT breeders still breed for the hunting stock and prey drive. And some American JRT lines still have hyper and aggressive characteristics. Do your research, interview breeders, and decide what kind of Jack Russell Terrier will best suit your family and be safe with your children and other pets.
Health histories, recorded pedigree histories and carefully protected bloodlines along with the proper hand-raising of these lovely little terriers are all vitally important. Ask about the breeder's philosophy, their history with this breed, how they raise their pups and what kind of guarantee do they have to stand behind their babies.
Please let us know how we can help you in your research as you look for your new family member. We are about educating families and welcome your questions in helping you find the best match for their own family. We try our best to match the personality of the puppy to the personality of the family.
This has worked wonderfully in the past and we welcome you to ask for references from our many Trinity Farms Families.
Most of all, have fun in your search for your next family member who will be with you for 16 - 20 years.
If we don't have a puppy for you, then we will refer you to Sheila of Connemara Terriers in Maine.

dmsfitz@yahoo.com Call Donna at 803-648-3137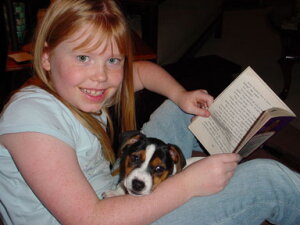 Home is a place where memories are made. We invite you to discover and fall in love with the puppy or dog that is just right for you and your family.
They are healthy, vibrant and loving pups raised by hand, in a happy, country home. Professionally raised by the Fitzpatricks for generations.
They are heart & soul people, and not surprisingly, a heart & soul projuct of labor and love. Nuturing small things with great love and appreciating the Value of Aunthenticity.
We have a sense of place and history with their lives.
About Us | Fitzpatrick Roots | Contact Us | Map & Aiken area | Site Contents